Side Effects of Essure
Injury Lawyers Representing Patients Harmed by Essure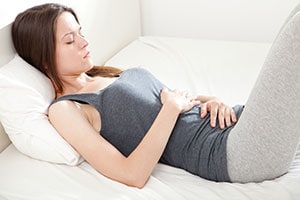 Health care providers can implant Essure for up to a year from the date that it was purchased. Although it will not be sold or distributed in this country after December 31, 2018, there are serious side effects of Essure, and people already implanted with the device may suffer tremendously from adverse effects. If you were injured by one of the many side effects of Essure, you should consult an experienced product liability attorney. At Moll Law Group, we are familiar with Essure side effects and the product liability laws that may be applied to them. If our Essure injury lawyers can establish liability, it may be possible to recover damages, including the costs of future surgeries and medical care.
What are the Side Effects of Essure Birth Control?
Side effects during and just after Essure is placed include mild to moderate pain, vaginal bleeding, cramping, lightheadedness, pelvic pain, discomfort in the back, and nausea. There are also some significant long-term risks, including chronic pelvic and abdominal pain, back pain, perforation of the uterus or fallopian tubes, allergic reactions, migration of the device's coils, and unintended pregnancies. Other side effects include fatigue, weight change, headaches, mood change, and hair loss.
Does Essure Cause Hair Loss?
Hair loss is a known potential side effect of Essure.
Can Essure Cause Migraines?
Headaches are a commonly reported side effect of Essure. These headaches may be quite severe. Some women have reported migraine headaches. However, migraines are an inherited neurological disorder, the exact cause of which is unclear, and it is not known whether migraine headaches are related to Essure.
Can Essure Cause Pelvic Pain?
Yes, many women have reported chronic pelvic pain after having Essure placed. People who suffer severe chronic pain as a result of Essure may wish to have the coils removed. It is very difficult to have these coils removed, since Essure is a permanent procedure. However, there have been some surgical techniques used to remove Essure, and some women have had complete hysterectomies as a solution to side effects like chronic pelvic pain.
Can Essure Cause Nausea?
Yes, Essure can cause nausea.
Can Essure Make Me Vomit?
Some women experience not only nausea but also vomiting as a side effect of Essure.
Can Essure Make Me Dizzy?
Yes, lightheadedness is a known side effect of Essure.
Can Essure Cause Infections?
Some women have reported infections as a result of the Essure procedure. Essure does not guard against sexually transmitted infections. Furthermore, the Essure procedure may cause problems if you have recently had or have a pelvic infection at the time that the coils are placed.
Does Essure Cause Nickel Poisoning?
Materials used for the Essure coils may include nickel. Australian women have joined a class action alleging that Essure caused them nickel poisoning, among other problems. The class action alleges that the device may corrode, and this exposes women to nickel poisoning. Although Essure has been marketed as minimally invasive and effective, the complications that it may cause can be damaging.
Does Essure Cause Allergic Reactions?
Essure is not right for people with metal allergies. A health care provider may need to conduct allergy testing before the procedure to place the coils. Materials used in the coils can include nickel and other metals to which you may be allergic.
Does Essure Cause Autoimmune Disorders?
Essure is not known to cause autoimmune disorders. However, if you have an autoimmune disorder, excessive inflammation may be triggered in the area around the coil inserts.
Does Essure Cause Cysts?
Cysts are not a known side effect of Essure.
Contact an Experienced Essure Attorney
Essure was marketed as a safe, non-invasive, and permanent method of birth control. However, many of its side effects are severe and may be results of manufacturing or design defects. Furthermore, the manufacturer of Essure may not have warned adequately about the risks of many of these side effects. Although Bayer stated that it will not sell Essure after the end of 2018, this does nothing to address the substantial pain and serious side effects to which patients have been exposed in a procedure that was marketed as being permanent. It is unclear whether Essure can be safely reversed, and some women have had complete hysterectomies in order to have the device removed. The additional medical care is very expensive and time-consuming. You may be able to recover damages by bringing a product liability lawsuit. Moll Law Group is a Chicago-based product liability firm that is familiar with Essure and the efforts to have the procedure reversed. Contact us at 312.462.1700 or via our online form.