Charlotte Personal Injury
Personal Injury Lawyers Helping Charlotte Residents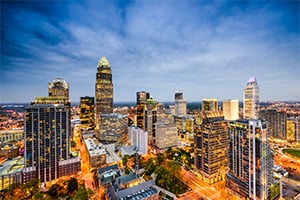 After you have been hurt in a serious accident, the responsible party's insurer may contact you. The purpose of the call is likely to be to obtain an admission of fault or other evidence to use against you should you bring a civil lawsuit. You should consult your own attorney before providing any statements to an insurer. At Moll Law Group, our experienced personal injury attorneys represent Charlotte residents and other victims in a wide range of cases.
Product Liability
Unlike many other states, North Carolina requires plaintiffs to prove negligence to establish liability in these cases. A defective product claim is subject to the North Carolina Product Liability Act, which provides the standards and defenses that apply in the event that you are bringing a negligence claim due to a defective appliance, vehicle, toy, or other product. If you are filing suit, you must meet a three-year statute of limitations and comply with a 12-year statute of repose.
Medical Malpractice
Health care negligence may cause life-changing harm to patients. If you have been injured by a careless medical professional, you may be able to seek compensation for medical costs, lost income and earning capacity, pain and suffering, and other forms of harm. You will need to produce expert testimony to explain what the doctor did wrong and how their negligence harmed you.
Nursing Home Abuse
In North Carolina, nursing home abuse cases are treated as a type of medical malpractice. This means that an expert will need to review the nursing home records and determine whether the nursing home staff violated the appropriate standard of care. Nursing home abuse may take many forms, including using excessive restraints, overmedicating, force feeding, failing to turn an immobile resident to avoid bedsores, and administering antipsychotics in order to control a patient. Premises Liability
In North Carolina, you may be able to bring a premises liability lawsuit for compensation if you have been hurt on someone else's property. The property where you are injured may be a neighbor's house, a swimming pool, a park, a retail store, a mall, or somewhere else. Usually, you will need to show that the property owner owed a duty to use reasonable care and failed to meet that duty, thereby causing you to suffer injuries.
Automobile Accidents
After a car accident, you have three years to file a claim for compensation for your injuries. North Carolina is one of the very few states that follow an old rule called contributory negligence, in which a plaintiff may not recover compensation if they are even slightly at fault for an accident. The jury must find that the other party is 100% to blame, which means that you should consult your own attorney rather than speak to the at-fault party's insurance adjustor.
Toxic/Environmental Torts
Toxic tort cases may be complicated because they depend so heavily on scientific and technical evidence about the effect of a particular substance on the body. Often, governmental regulations also affect a lawsuit. Defendants may argue that they complied with the government regulations in effect at the time of the exposure. It is important to retain committed and aggressive legal representation if you believe that a toxic substance caused you to get sick.
Consult an Experienced Personal Injury Attorney in the Charlotte Area
If you have been hurt because of someone else's negligence or wrongful conduct in the Charlotte area, the personal injury lawyers at Moll Law Group are available to bring a lawsuit on your behalf. We are experienced advocates who can take your case to trial if necessary. Billions of dollars have been recovered in lawsuits in which we have been involved. Call us at 312-462-1700 or complete our online form to arrange a free consultation with a product liability attorney or seek representation in another personal injury claim.