Trampoline Park Accidents
Personal Injury Lawyers Based in the Chicago Area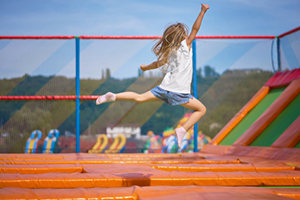 Many kids around the country spend time at trampoline parks, bouncing on trampolines and jumping into pits of foam blocks. However, people sometimes suffer catastrophic injuries, such as broken backs, broken necks, and fractured and dislocated elbows, at trampoline parks. Several victims have died from injuries suffered at trampoline parks. The American Academy of Pediatrics has advised that children should not play on trampolines, and this equipment should be used only for specific sports or training programs under a trainer adult's supervision. If your child or you were injured at a trampoline park, you should contact the trampoline park accident lawyers at Moll Law Group.
Trampoline Park Accidents
Trampoline accidents can cause catastrophic or fatal injuries in many different ways. There are dangers, for example, in the design, which consists of steel cables or chains under pads. When people bounce on the trampoline, the energy may spread and cause faster bounces that result in a high-impact crash. These crashes may result in broken bones or death. Sometimes the bouncer's foot gets caught between the steel cables and the thin pad on top. In other cases, larger children crash onto smaller children.
In some cases, the trampoline park may take a casual or even reckless approach to safety, even though children are at risk. The design of the trampolines or their placement may be defective and unreasonably dangerous. There may be issues with the pads on top of the metal, and in some cases, the dangers are amplified by the placement of trampolines next to each other.
Often, trampoline parks require people to sign waivers for their children to participate. The contracts may include a requirement that the parents arbitrate personal injury claims against the park.
Liability for Trampoline Park Accidents
Various parties may be at fault for a trampoline accident. It is important to retain an experienced trampoline park accident attorney who can look at all the parties that might be responsible to figure out whom to hold accountable in a lawsuit. Parties that may be responsible include the trampoline park owner, the trampoline manufacturer, or another user of the trampolines.
If something is wrong with the trampoline when it leaves the manufacturer, it may be appropriate to sue the manufacturer in a product liability case. For example, if a trampoline breaks due to a defect that it had when it left the factory, and a child gets caught inside and breaks both his legs, the manufacturer may be responsible. A product liability lawsuit may be brought when there is a manufacturing, design, or marketing defect. For example, if the trampoline broke because there is a flaw in how all the trampolines from that manufacturer are designed, it may be appropriate to allege a design defect. For another example, if a certain trampoline was made in a way that deviated from its specifications and therefore caused an injury, there may be an actionable manufacturing defect. Damages can be pursued under theories of strict liability or negligence.
In other situations, however, a trampoline may cause injuries due to how inadequately it was maintained, or how it was placed next to other trampolines. In that case, a trampoline park accident lawyer may sue the trampoline owner. For example, sometimes trampoline parks place trampoline beds at a 45-degree angle, permitting users to send themselves high into the air. Sometimes they place foam pits and slides that present unexpected dangers alongside the trampolines. In these circumstances, if someone is injured because of the placement, it may be appropriate to sue the trampoline park owner in a premises liability lawsuit.
If another user of the trampoline was at fault for how they were bouncing, it might be appropriate to sue that user for negligence. For example, if an adult started bouncing and acting wildly at the trampoline park and crashed into your four-year-old child, and you discovered that he was intoxicated, it might be appropriate to sue that adult. It also might be appropriate to sue the trampoline park for its negligent failure to put appropriate policies in place.
Retain a Seasoned Trampoline Park Accident Attorney
If you were harmed in a trampoline park accident, you should consult an attorney with experience handling product liability and premises liability lawsuits. Moll Law Group is a Chicago-based law firm of seasoned attorneys who can evaluate an accident to determine the potential sources of compensation. We may be able to represent you in a lawsuit. Call us at 312.462.1700 or contact us online for a free consultation.