Denver Personal Injury
Experienced Personal Injury Lawyers Serving the Denver Area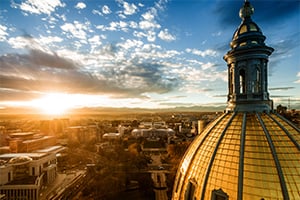 Many corporations, institutions, and individuals do not use reasonable care to make sure that others are not injured. A failure to use reasonable care while caring for an elderly person, conducting business operations, or driving a truck, among other situations, may result in a devastating accident. If you have been hurt in this type of situation, you should seek legal counsel. At Moll Law Group, our personal injury attorneys can represent Denver residents in bringing claims against any parties that harmed them.
Product Liability
When consumers are hurt by a defective product, the manufacturer responsible for the defect should be held accountable through a product liability lawsuit. Defects that may be the basis for a lawsuit consist of three types: manufacturing, design, and marketing. Often, marketing defects involve a failure to warn. For example, if you take a pharmaceutical and suffer unexpected side effects, such as developing cancer or diabetes, you may have grounds for a failure to warn lawsuit.
Medical Malpractice
If your doctor made a mistake while diagnosing or treating you, and the mistake involved a deviation from the accepted standard of care related to your medical problem, you may have grounds to bring a medical malpractice lawsuit. In Colorado, you only have two years from the date on which you discovered or reasonably should have discovered a medical mistake to bring your claim. Moreover, you need to file your lawsuit within three years of the actions giving rise to your claim unless the case involved fraud, the case involved leaving a surgical instrument inside your body, or you could not have discovered either the actual malpractice or the resulting harm by using reasonable diligence.
Nursing Home Abuse
When you place your loved one in a nursing home, you assume that the nursing home and its staff will use reasonable care to make sure that your loved one is properly treated for illnesses and given basic personal attention. If your loved one is seriously injured in a nursing home due to a failure to use reasonable care or protect their basic rights, you may be able to bring a lawsuit to recover compensation.
Premises Liability
If you are injured on someone else's property, you may have grounds to bring a premises liability lawsuit under the Colorado Premises Liability Statute Premises § 13-21-115(2). This statute applies to cases involving injuries on broken steps, spilled substances, dog bites, and other situations.
Automobile Accidents
Most car accidents are preventable and arise from negligent actions by one or more drivers. If you were hurt, you may be able to recover compensation if you can show that a defendant's failure to drive safely caused your injuries. For example, if a driver is texting while driving and runs a red light, striking your car, you may be able to show that texting instead of paying attention to the traffic signal was a failure to use reasonable care that caused the accident.
Toxic/Environmental Torts
Although there are many environmental laws that regulate the activity of corporations, companies do not always follow them. In other cases, science has not quite caught up to the chemicals being used by corporations today. However, if a corporation's operations negligently or recklessly harm individuals or the surrounding community, we can evaluate whether there may be a basis to bring a toxic tort lawsuit against the company.
Retain a Personal Injury Attorney in Denver or the Surrounding Communities
If you have been hurt because of someone else's negligence or misconduct, you may have grounds to bring a personal injury lawsuit. Serving the Denver area, the personal injury lawyers at Moll Law Group advocate for people who have been hurt by the carelessness of others. Billions of dollars have been recovered in cases in which we have been involved. Call us at 312-462-1700 or complete our online form to set up a free appointment with a product liability attorney or seek assistance with another personal injury claim.