Joliet Personal Injury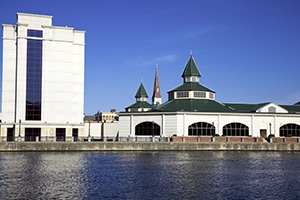 Personal Injury Attorneys Compassionately Representing Joliet Victims
Consumers who have been hurt by defective products, negligent drivers, careless property owners, reckless corporations, or incompetent doctors may struggle with medical bills, lifestyle changes, emotional trauma, and other significant and sometimes expensive changes. In most cases, the only way that someone can afford the toll that serious injuries may take is by bringing a lawsuit to pursue compensation. If you were hurt due to someone else's misconduct or negligence in Joliet, the experienced personal injury lawyers at Moll Law Group can explore your options and represent you in a lawsuit.
Product Liability
An Illinois resident may be able to recover compensation for defective toys, car parts, food, pharmaceuticals, or medical devices under a theory of strict liability, meaning that they will not need to establish that the manufacturer breached a standard of care or acted negligently. Instead, they will seek to prove that there was a defect in the product, the defect made the product unreasonably dangerous, and the defect caused the injuries. Defects may be related to marketing, manufacturing, or design. It is often necessary to retain an expert who can offer opinions about the defect and whether the defect was the cause of an injury.
Compensation may be available to a plaintiff who establishes strict liability. This is intended to restore a plaintiff to the position in which they were prior to being hurt, and it may include economic and noneconomic losses. Economic losses are tangible losses, often backed up by documentation, such as medical costs, lost wages, household services, and vocational rehabilitation costs.
When an injury requires ongoing medical care, such as the injuries suffered by people who have been harmed by defective transvaginal mesh, medical costs may include the costs of past surgeries as well as ongoing treatments and likely future surgeries. Similarly, if a vehicle rollover accident results in paralysis, for example, you may need to change your home to accommodate your disability. This also would be a type of economic loss.
Noneconomic items of losses are more subjective losses, such as pain and suffering, mental anguish, loss of consortium, and loss of enjoyment. Although nothing may put you in the position in which you were before being hurt by a defective product, the jury can put a dollar value on what it thinks is the appropriate financial value for these losses.
Medical Malpractice
When a doctor deviates from the accepted practices and standards of the medical community, the consequences may be devastating. In a medical malpractice lawsuit, we will need to retain experts to establish what the accepted practice was in connection with the medical care that you received. The expert will also need to testify that your health care provider did not meet that standard and that this caused your injuries.
Nursing Home Abuse
Many elderly people are abused or neglected by the very people who are entrusted to take care of them. It is important for families to be alert to signs of neglect, such as pressure sores, unexplained falls, and changes in behavior. Our firm handles nursing home abuse cases on behalf of residents and families. It may be appropriate to sue under the Illinois Nursing Home Care Act as well as common law theories, such as negligence or breach of contract.
Premises Liability
Premises liability lawsuits are brought when visitors are injured on someone else's property due to a dangerous condition. For example, if someone is hurt in the swimming pool of an apartment complex because of defective safety equipment, it may be appropriate to sue the owner of the complex for compensation. We will need to prove that the owner had actual or constructive notice of the dangerous condition yet did not make repairs or provide warnings about it.
Automobile Accidents
Car accidents typically arise from negligence. To establish negligence, you will need to prove four elements by a preponderance of the evidence: the defendant's duty of care, a breach of duty, causation, and actual damages. The duty to use reasonable care while driving may be breached in many ways, including texting while driving, fatigued driving, and drunk driving.
Toxic/Environmental Torts
Many corporations care more for profits than the safety of the community. In some cases, this results in practices that harm the public, such as using dangerous chemicals without regard for their effects on air and water. If you developed a serious illness due to chemical exposure arising from a corporation's negligence, we may be able to bring a lawsuit on your behalf.
Enlist a Personal Injury Lawyer in the Joliet Area
If you have been injured as a result of someone else's negligence or wrongdoing, you may have grounds to bring a lawsuit. At Moll Law Group, our personal injury attorneys diligently advocate for Joliet residents who have been hurt or lost a loved one. Billions of dollars have been recovered in cases in which we have been involved. Call us at 312-462-1700 or complete our online form to set up a free consultation with a personal injury or product liability lawyer.