Community Involvement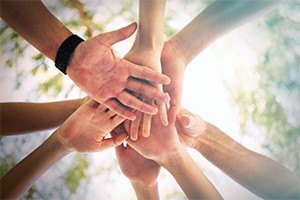 Injury Lawyers Serving Victims in Chicago and Nationwide
The Chicago injury attorneys at Moll Law Group are deeply committed to giving back to our neighbors in the community. We volunteer, contribute time as board members, and raise funds for numerous nonprofit, civic organizations. Our firm also contributes a portion of its proceeds to support the work of many organizations, including Amnesty International, Ann & Robert H. Lurie Children's Hospital of Chicago, Art Institute of Chicago, Auditorium Theatre of Roosevelt University, Bear Necessities Pediatric Cancer Foundation, Leukemia & Lymphoma Society, PAWS Chicago, and Service Club of Chicago. Other organizations receiving our assistance are Big Brother Big Sister Foundation, Big Shoulders Fund, Center on Halsted, Chicago Botanic Garden, CureSearch for Children's Cancer, Garfield Park Conservatory, Giordano Dance Chicago, Greater Chicago Food Depository, Joffrey Ballet, Kids in Danger, Lincoln Park Zoo, Snow City Arts Foundation, Special Olympics, Public Citizen, Susan G. Komen for the Cure, and Urban Gateways.
You might be surprised to learn that accidents resulting from someone's careless or reckless actions are among the leading causes of death in America. Our firm's goal is not only to obtain appropriate compensation for victims but also to help prevent injuries in the first place. As part of our outreach to the greater community and our efforts to protect consumers both before and after accidents occur, we have created a free network of consumer safety resources. We are proud to provide this information as a central part of our mission, since we see ourselves as not just aggressive litigators serving individuals but also safety advocates with the interests of society at large in mind.
Dedicated and Compassionate Guidance in Asserting Your Rights
Some of the most devastating harm that may befall an unsuspecting victim involves the use of a defective product. Consumers expect (and are entitled to expect) that the items that they buy, from toys and household appliances to pharmaceuticals and cars, are safe to use. However, even the most ordinary items may be dangerously flawed, causing catastrophic injuries. One of the main ways to hold a manufacturer accountable for making and selling defective items is to file a product liability lawsuit.
These lawsuits may be based on theories of negligence, strict liability, breach of warranty, fraud, misrepresentation, or a combination of these. For example, a strict liability theory requires a plaintiff to prove that the product was unreasonably dangerous and defective, the dangerous condition or defect existed at the time the product left the manufacturer, and the plaintiff's injuries were caused by this defect. There are three types of defects that may give rise to a product liability lawsuit: design defects, manufacturing defects, and marketing defects.
In some tragic circumstances, flaws in a consumer product may prove fatal to someone who uses it. Nothing can make up for the wrongful death of a loved one due to a defective product or someone else's negligence. At Moll Law Group, however, we are available to pursue a claim for compensation to deal with the financial repercussions of your loss and give you a sense that justice has been served. Many of these wrongful death cases arise out of defective vehicles, dangerous drugs, or faulty medical devices. You may file a civil lawsuit even if a criminal case arising from the same conduct did not result in a conviction. The standard of proof in civil wrongful death cases is much lower than the standard of proof in criminal trials.
Each state uses its own rules regarding who is permitted to bring a wrongful death lawsuit and how damages will be distributed to the victim's surviving family members. In Illinois, only the personal representative of the victim's estate can file the claim. In other states, it is possible for family members to directly sue the person or entity that was responsible for their loss. Each case is unique, and our sensitive attorneys are dedicated to helping each of our clients seek the justice that they deserve.
Consult an Experienced Chicago Attorney for an Injury Claim
At Moll Law Group, our Chicago injury lawyers are available to vigorously assert the rights of victims so that they can move on more smoothly after a tragic accident interrupted their lives. Moreover, we also want our community to benefit from what we have learned as attorneys working with some of the best experts in the nation. With that objective constantly in mind, our product liability attorneys are dedicated to providing free safety education to consumers. Moll Law Group represents accident victims in Wheaton, Naperville, Schaumburg, and communities throughout Cook County. We also assist injured consumers in states across the nation, including California, New York, Texas, Florida, Michigan, and Massachusetts. Billions of dollars have been recovered in cases in which we were involved. Call us at 312-462-1700 or use our online form to set up a free consultation.