Distracted Driving Car Accidents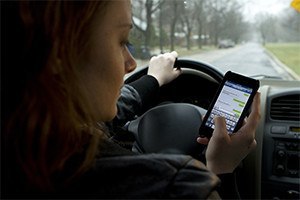 Car Accident Lawyers Helping Victims in Chicago and Beyond
Distracted driving occurs whenever a driver's attention is diverted from the important task of operating the vehicle and responding to various events on the road. In some cases, the distraction is visual, while in other cases it may be cognitive or manual. For example, our Chicago distracted driving accident attorneys know that a visual distraction might be looking at an accident on the other side of the road. A cognitive distraction might occur when talking to someone in the backseat or worrying about dogs fighting in the backseat. A manual distraction might be eating a sandwich while driving. If you are a victim of another person's distracted driving, the car accident attorneys at Moll Law Group are ready to help you pursue compensation.
Holding a Distracted Driver Liable for Negligence
Many people decide to multitask while driving. This activity demands a driver's full attention, however. Distracted driving is a major cause of accidents. If you are injured due to someone else's carelessness, you may be able to recover compensation by proving a claim of negligence. This means that you need to show four elements by a preponderance of the evidence: the defendant's duty of care toward you, the defendant's breach of duty, actual and proximate causation, and actual damages.
If a driver chooses to drive in a distracted fashion, this is usually a breach of the duty to use reasonable care. For example, if a driver is tuning the radio instead of paying full attention to the road and strikes your car at an intersection, you would likely be able to prove negligence. In some cases, a distracted driver commits a violation of a safety ordinance or law, and in those cases, it may be easier to establish negligence because the violation may qualify as negligence per se. This rule may apply when a driver violates a safety law, the violation causes injuries, the plaintiff is a member of a group the law was intended to protect, and the harm is of a type the law was intended to prevent. A distracted driving accident lawyer can help Chicago victims determine whether negligence per se applies to their situation.
In Illinois, all hand-held devices are banned while driving. Texting while driving is also prohibited under 625 ILCS 5/12-610.2. Bluetooth, headsets, and speakerphones are allowed, however. If a driver is texting while driving, it may be easier to establish his or her negligence. There are, however, exceptions for drivers who text to report an emergency and in other limited circumstances.
If you successfully establish another driver's negligence, you may be able to recover compensatory damages. These are economic and noneconomic damages intended to make you whole. Economic damages often include medical expenses, household services, out-of-pocket costs, lost income, and property damage. Noneconomic damages may include loss of enjoyment, mental anguish, and pain and suffering. Distracted driving is usually simply negligent, rather than egregious, reckless, or wanton, but someone who acts with one of these higher mental states may be liable for punitive damages.
Contact a Chicago Attorney after a Distracted Driving Accident
If you have been struck by a careless driver, the Chicago distracted driving accident lawyers at Moll Law Group can help you seek a broad range of compensatory damages. We represent injured people across Cook County, as well as in Schaumburg, Naperville, and Wheaton. Billions of dollars have been recovered in cases in which our motor vehicle collision attorneys have been involved. Call us at 312-462-1700 or contact us through our online form for a free consultation.