What to Do after a Car Accident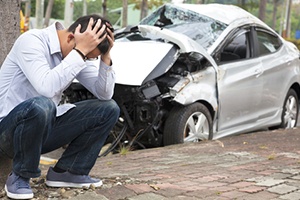 Motor Vehicle Collision Lawyers Guiding Chicago Residents
Car accidents are stressful, particularly if they involve serious injuries. Common types of injuries include spinal cord damage, brain trauma, fractures, and lacerations. Often, victims are unsure of what to do after a car accident. If you have been injured in a crash, the Chicago car accident attorneys at Moll Law Group are available to pursue a claim for compensation on your behalf.
What To Do After a Car Accident
The first thing to do after a car accident is to check for injuries suffered by any of the people involved. Nobody involved should leave the scene unless everyone is physically fine, and there is no property damage. If there are injuries, it is important to get medical attention right away by calling an ambulance and the police. You should ask police officers who arrive to file a police report, and you should obtain their names and badge numbers so that a follow-up is possible.
You should also exchange names and insurance information with others involved. If there are passengers or witnesses to what happened, you should try to obtain their names and contact information as well. In many cases, the actual drivers in a car accident are unsure of what happened immediately after an accident, particularly if there are head or brain injuries, but a passenger or pedestrian standing outside the cars may have a better perspective on what happened.
In general, you should not make any admissions or apologize for what happened. You do not want to take responsibility right away, especially if you are not sure what happened. Any apologies or admissions may be used to limit a victim's ability to recover compensation later.
If you are able to move around, you should take photographs of the scene. These photographs may be useful later, particularly if there are disputes about what happened, and it becomes necessary to retain an accident reconstruction expert.
You should not notify your own insurer without consulting an attorney. Notice of the accident must be given to your own insurance company as soon as possible but only after consulting with your attorney. Also, you should never speak to an insurer for the other driver. Your attorney should be the only contact with the insurer for the other driver. Although an insurance adjustor for the other driver may be friendly, he or she does not have your best interests at heart. If contacted by the isurer for the other driver, simply advise them that you have an attorney. They should not discuss the accident with you once they have knowledge that you have an attorney.
In most cases, the goal of the adjustor is to obtain an admission that will result in reduced liability for its insured. In Illinois, courts follow a rule of modified comparative negligence. Under this rule, an injured person may only recover compensation if he or she is less than 50% at fault for the injuries. The recovery will be reduced by an amount equal to his or her degree of fault, as determined by a jury. This means that an adjustor will be looking for any reason to offer only a small settlement or to not make a settlement offer at all.
You should not sign anything or accept a settlement offer without discussing the matter with an attorney. In most cases, once you sign away your right to sue an at-fault driver in exchange for settlement money, you cannot change your mind.
Discuss Your Car Accident Case with a Chicago Attorney
You may be wondering what to do after a car accident. The motor vehicle collision lawyers at Moll Law Group are available to review your police report, photos, medical records, and account of what happened to determine whether you have a basis for seeking compensation. We provide aggressive legal representation for accident victims in Naperville, Schaumburg, Wheaton, and communities throughout Cook County. Billions of dollars have been recovered in cases in which we have been involved. Contact us online or call us at 312-462-1700 to set up a free consultation with a Chicago lawyer.