Hit & Run Car Accidents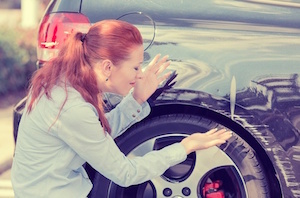 Chicago Lawyers Assisting Car Crash Victims
Hit and run accidents may bring with them both criminal and civil penalties. In Illinois, a hit and run is usually a misdemeanor, but if it involves severely damaged property or serious injuries, it will be charged as a felony. The sentencing for felonies can include time in the state penitentiary and significant fines. In many cases, you can recover punitive damages from a hit and run driver with the assistance of a car accident attorney. If you are the victim of a crash in which this reprehensible type of behavior was involved, the Chicago hit and run accident attorneys at Moll Law Group are ready to help you pursue compensation. Billions of dollars have been recovered in cases in which we have been involved.
Proving Liability for a Hit and Run Accident
If a hit and run driver is caught, you can bring a civil lawsuit against him or her. It may be appropriate to bring a personal injury lawsuit even if the driver's criminal charges have been dismissed, or the driver has been acquitted. Civil lawsuits have a lower standard of proof. Generally, a plaintiff must prove negligence by a preponderance of the evidence in a civil case, whereas the prosecution must prove all of the elements of a crime beyond a reasonable doubt, a much harder standard to meet. However, it is imperative to contact a personal injury attorney right away, since certain aspects of the criminal case could affect your civil claim for damages.
In most car accident cases, you can pursue compensation including medical expenses, lost income, lost earning capacity, pain and suffering, and lost enjoyment. This is compensation designed to put you back in the position in which you would have been had the accident not happened. Moreover, a hit and run accident oftentimes warrants a request for punitive compensation. This is compensation awarded to deter future wrongdoing and punish the defendant in cases of egregious, reckless, or intentional misconduct. It is usually in proportion to what it would take to truly punish a particular defendant. A hit and run accident lawyer at our Chicago firm can help you pursue punitive damages when appropriate.
However, there are many accidents after which a hit and run driver is not caught, or the driver is caught but does not have insurance with which to compensate the victim. In Illinois, drivers are required to carry uninsured or underinsured motorist coverage on their insurance policies in the amount of $20,000 per person or $40,000 per accident. Uninsured motorists can have their licenses suspended for three months and will need to pay a fee to have their license reinstated. Your own insurer may cover your serious injuries. However, you should be aware that in the context of an uninsured motorist claim, your own insurer might take an adversarial position against you. This means it is crucial to retain an attorney to represent you in negotiations and at trial if necessary.
Explore Your Options with a Hit and Run Accident Attorney in Chicago
If you have been struck by a reckless driver, the Chicago hit and run accident lawyers at Moll Law Group are available to help you pursue compensation from an at-fault individual or your own uninsured motorist coverage. Our firm represents injured individuals in Naperville, Wheaton, Schaumburg, and communities throughout Cook County. Call us at 312-462-1700 or complete our online form to schedule a free consultation with a motor vehicle collision attorney.