School Bus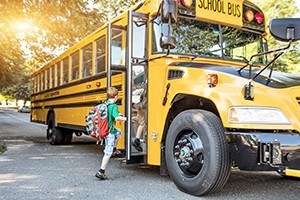 Motor Vehicle Collision Lawyers Serving the Chicago Area
Many parents put their children on school buses to get to school five days a week. They trust that the driver has the qualifications and good judgment to drive their children. Statistically speaking, a child is safer riding in a school bus than in a passenger vehicle. However, school buses are not required to have seatbelts, and sometimes accidents happen. Often, these accidents occur due to the negligence or recklessness of drivers of passenger cars, who may fail to stop when the school bus is stopped. Most school bus accidents happen while a student is getting on or off the bus. Sometimes they happen, however, when the school bus driver does not use reasonable care. The Chicago school bus accident attorneys at Moll Law Group can help you take legal action if your child has been injured. Billions of dollars have been recovered in cases in which our transportation accident lawyers have been involved.
Bringing a Negligence Claim for Damages
If your child is hurt in a school bus accident because of a passenger car driver, you may be able to sue that driver and his or her insurer. In many cases, you can receive coverage for a child's medical expenses and other economic losses. However, when multiple children are hurt because of an at-fault driver, there will likely be a per-accident coverage limit. You may not feel that you are adequately compensated, particularly for your child's pain and suffering, trauma, and other noneconomic damages. In some cases, therefore, you may also want to look at the school bus driver's role in the accident.
If a bus driver was not paying proper attention or had inadequate training, you may have grounds to sue the driver or the school district that hired him. You may seek to establish the driver's negligence by proving the bus driver's duty of care toward your child, a breach of duty, causation, and actual damages. In some cases, a school or school district negligently hires a driver who is not adequately trained, or it may fail to conduct a background check that would have revealed red flags in the driver's background. In that case, a school bus accident lawyer in Chicago may be able to help you sue the entity that hired the driver without checking his or her credentials to drive children under a theory of negligent hiring.
As government entities, school districts typically enjoy governmental immunity in Illinois under the Tort Liability of Schools Act and the Local Government and Governmental Employees Tort Immunity Act. This means that you cannot sue them except in a certain narrow range of circumstances. You only have one year to send a notice of filing and provide notice to the Court of Claims.
However, you will not be constrained if the school bus was for a private school. In that case, you can sue the school directly for negligence and other causes of action that may apply to private actors.
Consult an Experienced Chicago Attorney after a School Bus Accident
If your child has been hurt in an avoidable collision, our Chicago school bus accident lawyers are able to assist you in seeking the full range of damages to which you may be entitled. Our car crash attorneys can represent victims across Cook County, as well as in Schaumburg, Naperville, and Wheaton. Call us at 312-462-1700 or use our online form to set up a free consultation.