Subway Accidents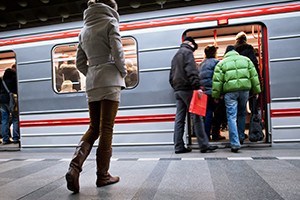 Transportation Injury Attorneys Serving the Chicago Area
Mass transit accidents, such as subway accidents, often result in catastrophic injuries, including brain trauma, spinal cord damage, paralysis, amputation, broken bones or complex fractures, and even a tragic death. Subway accidents can be the result of a collision, a rollover, a derailment, operator negligence, an electrocution, a malfunctioning door, a turnstile injury, inadequate maintenance of the car or platform, a slip and fall onto the tracks, or a sudden stop, among other examples. When a passenger is injured or killed, the subway and any other responsible parties may be held legally accountable. If you have been hurt or have lost a loved one in this situation, the Chicago subway accident lawyers at Moll Law Group are available to help you recover compensation. Billions of dollars have been recovered in cases in which we have been involved. Our transportation accident lawyers are ready to help you vigorously assert your rights.
Seeking Compensation after a Subway Accident
In many states, modes of public transportation, including subways, are characterized as common carriers. A common carrier is a person or business that offers public transportation, and it is held to a higher standard of care than the average person. In order to hold a common carrier liable, you will still have to prove negligence. You will have to show four elements by a preponderance of the evidence: the duty of care that the defendant owed you, a breach of duty, actual and proximate causation, and actual damages. However, its duty to act reasonably is greater than the duty of a private person to act reasonably under the same circumstances. The rationale behind this greater duty is that the public relies on public transportation more than it does on a private driver.
If the accident occurs in a station or platform, rather than on the subway while it is moving, you may need to bring a premises liability claim. For example, if you slip and fall in the station, a subway accident attorney at our Chicago firm may be able to help you hold the subway or the owner of the station liable for failing to repair or warn about a dangerous condition. You will have to show that the owner knew or should have known about the condition, and that it did not take proper steps to protect you and others from harm.
As public transportation, the subway is controlled by a government agency. In Illinois, it can be challenging to hold a government agency responsible for injuries sustained on rapid transit. Usually, a government agency is immune from suit, except when it has expressly agreed to the possibility of liability. There is a shortened window of time or statute of limitations within which to notify the government of the suit with a Notice of Claim, and often there are specific procedures that must be followed in order to recover compensation. Subway accident cases are complex, and it is important to retain an attorney who understands how to hold the government responsible for a victim's injuries.
Injuries caused on a subway may be severe. If you can prove negligence, you may be able to recover compensation for medical expenses, lost income, lost earning capacity, household services, pain and suffering, and mental anguish, among other forms of harm.
Discuss a Subway Accident Case with a Chicago Lawyer
Time is of the essence after a subway accident. Although a government agency will investigate what happened, it is vitally important for an injury attorney to also investigate the cause of the accident soon after it happens. In some cases, there may be defective parts or another cause for an accident besides subway negligence. The Chicago subway accident attorneys at Moll Law Group are available to help you explore your options and assert your rights. We also represent injured individuals in Naperville, Schaumburg, Wheaton, and communities throughout Cook County. Contact us via our online form or call us at 312-462-1700 to set up a free consultation.