Accidentes en Restaurantes
Los Abogados de Responsabilidad del Local Sirviendo al Área de Chicago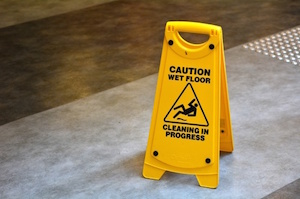 Cuando usted come en un restaurant con sus amigos o su familia, lo último que usted espera es ser lesionado gravemente. Desafortunadamente, no todos los dueños y personal de restaurants son tan cuidadosos como deberían serlo, para asegurarse que los clientes eviten daños. Algunas maneras comunes en que las personas pueden ser lesionadas o enfermarse en restaurantes incluyen resbalar y caer, intoxicación alimenticia y quemaduras. Si usted se lastima en un restaurant, los abogados de Chicago de responsabilidad del local del Moll Law Group están a la disposición para evaluar su caso y potentially representarlo a usted en una demanda por compensaciónlawsuit for damages.
Buscando la Compensación por un Accidente en un Restaurant
Aunque hay varias posibles razones para iniciar una demanda contra un restaurant después de ser lesionado allí, una de las más comunes es la responsabilidad del local. La Ley de Responsabilidad del Local (740 ILCS 13) asigna responsabilidad al dueño u ocupante de la propiedad en Illinois. Por lo general, el propietario u ocupante tiene un deber hacia sus clientes para mantener la propiedad en una condición razonablemente segura. Esto significa que si el propietario u ocupante conoce acerca de un defecto, debe reparar el problema o poner avisos para los visitantes. Por ejemplo, un dueño de restaurante que sabe que hay una baldosa desencajada en el pasillo que lleva al baño, que presenta un peligro de tropiezos. debe poner un cono naranja, o fijar la baldosa apropiadamente de manera que ya no constituya un peligro.
Además, los propietarios u ocupantes pueden ser considerados responsables si ellos razonablemente deberían haber conocido sobre la condición peligrosa en la propiedad, no sólo si realmente lo sabían. Todos los propietarios están obligados a inspeccionar sus instalaciones periódicamente para determinar si existen condiciones peligrosas que haya que arreglar. Cuando una condición se traduce en lesiones que podrían haberse previsto, el propietario u ocupante puede ser responsable.
Si existe una condición peligrosa en una propiedad por un largo período de tiempo, muy probablemente el dueño del restaurant u ocupante podría haber sabido o tuvo un conocimiento constructivo de la condición peligrosa. Informar sobre un conocimiento real o constructivo puede ser difícil, pero en algunos casos, puede haber testigos, como los empleados del restaurant, quienes conocen desde cuando existe el problema. Sin embargo, si, por ejemplo, if un empleado del restaurant derrama líquido y crea una condición peligrosa que lesiona a unosde sus clientes but is unable to clean it up right away, and the spill stays on the floor from morning to night, tha, la responsabilidad de la condiciónt se imputa al empleadorknowledge may be.
Si usted establece con éxito una demanda de responsabilidad del local, podría be able to recuperar la compensación por los gastos médicos, pérdida de ingresos, perdida del disfrute, incapacidad, rehabilitación vocacional, y dolor y sufrimiento. A menudo, los aseguradores de propiedades se defienden contra las demandas de responsabilidad del local argumentando que ya que la condición era abierta y obvia, usted debería haberse notado. Un abogado experimentado puede ser la clave para combatir este argumento.
Consulte a un Abogado de Chicago para las Demandas de Responsabilidad del Local
Establecer la responsabilidad de un restaurant puede ser un reto, pero, usualmente, sus probabilidades recuperación son mejores cuando contrata a un consejero legal. Los abogados de responsabilidad del local de Chicago de Moll Law Group están a su disposición may be able para ayudarle a recuperar la compensación por sus lesionesdamages. Nuestra firma representa a individuos lesionados en Naperville, Wheaton, Schaumburg, y comunidades en todo el Condado Cook. Se han recuperado miles de millones de dólares en los casos en los que nos hemos involucrado. Llámenos al 312-462-1700 o complete nuestra forma en línea para programar una consulta gratuita con un abogado de lesiones personales.