Plastic or Cosmetic Surgery Malpractice Lawyers in Chicago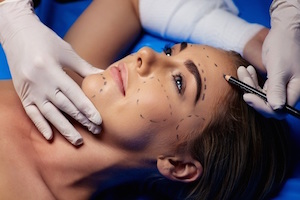 Medical Malpractice Lawyers Guiding Residents of Chicago
Cosmetic or plastic surgery includes breast augmentation, tummy tucks, elective liposuction, and corrective procedures related to scars. All surgeries carry risks of injuries or complications. For people who get cosmetic or plastic surgery, however, it can be devastating to discover that they are left with injuries or disfigurement that was not initially contemplated and that may be permanent. In some cases, it may be possible to fix problems created by surgery with further procedures, but for some patients, such as those who put the procedures on their credit cards or used their savings, these further surgeries are not affordable. It is important to consult an experienced Chicago plastic surgery malpractice attorney about whether you may have a claim based on a botched cosmetic or plastic surgery. The medical malpractice attorneys at Moll Law Group are available to help you seek compensation.
Holding a Cosmetic or Plastic Surgeon Liable for Damages
All surgeons owe their patients a duty of care and competency. Cosmetic surgeons have a duty to perform as competently as another surgeon in the same specialty faced with a similar patient would perform. In most cases, it is necessary to consult an expert plastic surgeon to determine what the standard of care is, and whether a particular surgeon lived up to that standard of care. Medical malpractice cases require substantial preparation to determine whether a doctor made a mistake and whether that mistake was the cause of a patient's injuries. An expert must be able to provide a certificate of merit, which is a prerequisite to filing a medical malpractice lawsuit in Illinois.
At trial, a plaintiff suing for plastic surgery malpractice will have to establish that the defendant surgeon failed to meet the minimum standards that are acceptable in the plastic surgery community, this failure caused injuries or disfigurement, and the plaintiff incurred actual damages. A failure to meet minimum standards can result in infections, scarring, disfigurement, pneumonia, the caving of a surgical site, skin discoloration, paralysis, adverse reactions to anesthesia, and even death.
If you are hurt by a botched plastic surgery procedure, a plastic surgery malpractice lawyer at our Chicago firm may be able to help you recover economic and noneconomic compensation. Economic compensation may include current medical costs, future surgery or treatment costs, lost income, lost earning capacity, and household services. Noneconomic compensation often includes pain and suffering and lost enjoyment. The compensation awarded by a jury (or provided in a settlement by an insurer) may be different depending on the line of work in which the victim was engaged and his or her gender.
Sometimes compensation for loss of consortium are also available for the spouse of someone who was injured by plastic surgery malpractice. The family members of someone who dies under the knife may be able to recover compensation through a wrongful death lawsuit.
Enlist an Experienced Chicago Attorney for a Plastic Surgery Malpractice Case
If you suffer disfigurement or other injuries due to errors in cosmetic or plastic surgery, the Chicago plastic surgery malpractice lawyers at Moll Law Group are available to help you pursue compensation. Billions of dollars have been recovered in cases in which we have been involved. Our firm represents injured individuals in Wheaton, Schaumburg, Naperville, and throughout Cook County. Call us at 312-462-1700 or complete our online form to schedule a free consultation with an injury attorney.