Emergency Medicine Malpractice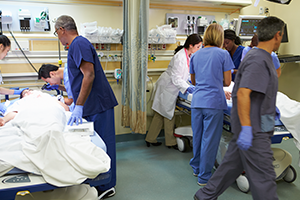 Chicago Lawyers for Victims of Health Care Negligence
Emergency rooms are often overcrowded and staffed only to a minimum. Doctors and nurses may not have access to a patient's medical records or history. They often have to work very quickly. As a result of these conditions, medical errors in judgment may be made, and the problem is exacerbated when there is a change of shift and a new group of doctors and nurses takes over. Some common emergency room errors include misdiagnoses, incorrect assessments of high-priority patients, medication errors, and failures to identify symptoms of heart attacks, stroke, or organ failure. It is important to seek advice from an experienced Chicago emergency medicine malpractice lawyer regarding your particular situation. If you suffer injuries or illness due to an error in the emergency room, the medical malpractice attorneys at Moll Law Group are available to help you recover compensation.
Bringing a Malpractice Claim against an Emergency Room Professional
When emergency room doctors and nurses make mistakes, the results can be catastrophic or even fatal. In order to prevail on a medical malpractice claim, you need to show the standard of care for a particular type of condition given similar circumstances, the health care professional's failure to comply with the standard of care, proximate (legal) causation, and actual damages. Causation needs to be established with a reasonable degree of medical certainty. The connection between the defendant's conduct and the injuries cannot be contingent or just possible.
You need to show that more likely than not, the defendant's negligence caused your injury. To that end, it is almost always necessary to retain experts. The exception is when a health care professional's negligence is so grossly obvious or the treatment is so common that a layperson is assumed to know about it. An emergency medicine malpractice lawyer in Chicago can help you retain a persuasive expert.
Usually, in Illinois, someone may testify as an expert if that person's experience and qualifications give him or her knowledge not commonly shared by laypeople, and the testimony will help the trier of fact in reaching its conclusions. Generally, an expert in a medical malpractice case must be a licensed member of the area of medicine that will be the subject of his or her testimony, and the expert needs to be familiar with the methods and treatments that other health care providers in the community observe.
Often, emergency room physicians are independent contractors. This means that the hospital may not be liable for their negligence. However, a hospital may be held liable under the doctrine of apparent authority if a plaintiff can establish that:
The hospital or its agent acted in a way that would allow a reasonable person to assume the doctor was the hospital's employee;
The doctor's acts created the appearance of authority, and the hospital knew this and acquiesced in them; and
The plaintiff reasonably relied on the actions of the hospital or doctor.
Reliance may exist if the plaintiff relies on the hospital to give total emergency room care, rather than relying on a specific doctor.
Consult an Emergency Medicine Malpractice Attorney in Chicago
If you were hurt or made sick by negligence in the emergency room, the Chicago emergency medicine malpractice attorneys at Moll Law Group are available to help you recover just compensation for your injuries. Our injury attorneys represent victims across Cook County and in Wheaton, Naperville, and Schaumburg. Billions of dollars have been recovered in cases in which we were involved. Call us at 312-462-1700 or use our online form to set up a free consultation.