Outpatient Surgical Clinic Negligence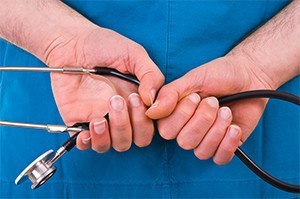 Medical Malpractice Lawyers Guiding Chicago Residents
Procedures performed at outpatient surgery clinics have grown more widespread. Often, they are more convenient for patients because they eliminate the need for long-term hospital care, and they may be more profitable for doctors. However, errors may happen in connection with elective, minor, or major surgery, including plastic surgery, cosmetic surgery, vascular procedures, eye surgery, and gastric bypass. A Chicago surgical clinic negligence attorney can help patients bring a claim. At Moll Law Group, our experienced medical malpractice attorneys are able to help you pursue compensation if you have been a victim of outpatient surgical clinic negligence.
Establishing Liability for Outpatient Surgical Clinic Negligence
Many people assume that outpatient surgical clinics are places where they will be safe. Unfortunately, outpatient surgical clinic negligence happens. Many outpatient surgeries carry a greater risk of serious surgical errors than hospital operating rooms, and the result may be serious injuries or even deaths.
Often, these clinics have more limited resources and ability to provide a trauma response if there is an emergency during the procedure. Common surgical errors include anesthesia errors, medical debris or instruments left inside the patient, and surgery on the wrong body part. In most cases, a surgical procedure involves a team that includes a primary surgeon, a surgical assistant, an anesthesiologist, and nurses. Sometimes errors are made by a staff member other than the surgeon. Staff errors may include a failure to sterilize equipment, poor staff oversight, a discharge that occurs too soon, improper training of medical staff, and poor documentation.
Some families have been shocked to find that their loved one is permanently incapacitated or dead after a procedure that was supposed to be beneficial and relatively safe. These families' only recourse may be a wrongful death lawsuit. Patients who survive an error in an outpatient surgical clinic may face a more significant recovery process that results in more surgeries, physical therapy, time off work, scars, long-term pain, disfigurement, or the need for lifelong medical care.
Not every mistake or adverse outcome is considered actionable malpractice. In order to recover compensation for medical malpractice with the assistance of a surgical clinic negligence lawyer in Chicago, an injured patient or the family of the victim will need to establish that a health care provider had a duty to act according to a particular professional standard of care, the health care provider failed to act according to the standard of care, the breach of care was the proximate cause of the injury or death, and actual damages were incurred.
Generally, the standard of care in a professional negligence case requires the use of the same knowledge, ability, and skill that a reasonably careful professional would exercise under similar circumstances. Sometimes the specific actions that constitute the standard of care vary depending on factors related to the patient, such as his or her age, gender, and health.
When suing for medical professional negligence, the plaintiff must prove a failure to conform to the appropriate standard of care through expert testimony unless the negligence is grossly apparent or would be obvious to laypeople on the jury. The expert should be someone in the same specialty as the defendant. For example, if the defendant is a cosmetic surgeon, the expert also should be a cosmetic surgeon.
Consult a Surgical Clinic Negligence Attorney in the Chicago Area
If you suffered injuries or a loved one died due to outpatient surgical negligence, you should consult the Chicago surgical clinic negligence lawyers at Moll Law Group about whether you have a case as soon as possible. Our firm represents people in Naperville, Schaumburg, Wheaton, and communities throughout Cook County. Billions of dollars have been recovered in cases in which we were involved. Call us at 312-462-1700 or complete our online form to set up a free appointment with one of our surgical error attorneys.