Chicago-Based Lawyers for Target Candle Claims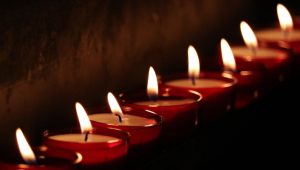 Recently, the United States Consumer Product Safety Commission (CPSC) issued a notice that Target is recalling nearly 5 million candles. Reportedly, around 4.9 million Threshold-branded candles in glass jars have a flaw that causes consumers to suffer laceration and burn hazards. The candles come in a range of sizes and scents, including apple blossom and breeze, warm cider and cinnamon, and water mint and eucalyptus. If you were injured or a loved one died because of the Threshold-branded candles or similar candles in glass jars, call the seasoned Chicago-based product liability lawyers of Moll Law Group.
Contact Moll Law Group About Lacerations and Other Injuries from Recalled Candles
The recalled Threshold products were sold only in Target stores and on their online website from August 2019 -March 2023.They cost $3 -$20. The sizes that were affected are: 5.5 ounces with 1 wick; 14 ounce 3-wicks, and 20 oz. 3 Wick Candles. At the bottom of the glass jars are the recalled item numbers.
Since the candles arrived on the market, consumers have provided 137 reports of injury to Target. The complaints were made about the breaking and cracking of the recalled glass jars while they were being used. Six injuries — which included lacerations and severe burns — were reported.
The CPSC warned consumers to immediately stop using recalled Threshold products.
Recovering Damages for Injuries
Those who have been injured by the defective candles may be able to bring a product liability lawsuit for damages. These damages may be brought when a product is defective in terms of its market, manufacturing, or design. So, for instance, if there was a flaw in how the candle was designed, every unit of the candle will have the flaw. However, if there is a manufacturing defect, it may only exist in one batch of the unit, a few candles, or even one candle; the problem with the candle has to do with its departure from design specifications or the formula by which it was made.
Theories under which our lawyers may be able to establish liability include negligence, strict liability, breach of warranty and breach of contract. Each state follows its own laws regarding a consumer's lawsuit to recover damages for a defective product. In some cases, statutory violations may allow consumers additional remedies.
If our lawyers can successfully establish liability in a product liability lawsuit, we may be able to recover compensatory damages, or damages intended to put you back in the position you would have been in had you not been harmed by the defective candles. They can include economic and noneconomic losses. Economic losses may include medical bills, income, replacement services, and out of pocket costs. Noneconomic losses can include disfigurement, pain and suffering, lost earning capacity, loss of enjoyment of life, and loss of consortium.
Call Our Seasoned Product Liability Attorneys
If you or a loved one was injured due to the candles that Target recalled, or other candles with defects, you should call the seasoned Chicago product liability lawyers of Moll Law Group to see whether you have a claim. We represent injured consumers across the nation. Please complete our online form or call us at 312.462.1700.