Cosori Air Fryers are Recalled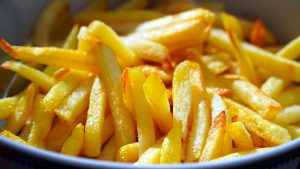 Reports made to the United States Consumer Product Safety Commission (CPSC) claim that the air fryers made by Cosori, one of the most popular brands, catch on fire. The company has recalled the affected air fryers. According to the consumer agency, the recall has been issued because there is a faulty wire connection inside the air fryers. This may result in air fryers smoking, melting, burning, and otherwise overheating. Ten of the reports made to the CPSC involved burns and other minor injuries; there was also property damage reported. If you were injured by a Cosori air fryer, you may be wondering whether you have any recourse. Call experienced Chicago product liability lawyers at Moll Law Group to determine your legal options. Billions have been recovered in product liability lawsuits with which we've been involved.
Call Moll Law Group About an Air Fryer Claim
Amazon, Target, Home Depot, and Best Buy sold the recalled air fryers online from June 2018-December 2022 for $70-$130. The models were sold in many different colors including blue, white, gray, black and red. If you have an affected model, you can register your air fryer online to get it replaced or you can call 1-888-216-5974.
There are alternatives to the Cosori air fryers if you wish to buy a different air fryer. However, if you were injured, you may be wondering if you have any remedies. It may be appropriate to bring a product liability lawsuit against Cosori. This type of lawsuit can be pursued when a product is dangerous because of manufacturing, design, or marketing defects.
The jurisdiction will determine what theories would be appropriate to assert the manufacturer's liability. When, for example, a manufacturer is alleged to be negligent, our lawyers will need to prove that the manufacturer owed a specific duty of care that it breached, thereby causing the burn injuries in question. Strict liability can be a better theory of liability for plaintiffs because no specific duty of care must be established to recover.
When injuries are caused through another's fault, it may be possible to recover compensatory damages to make up for the losses associated with the injuries and require the manufacturer to pay for those losses, as it is better situated to do so as compared to an individual injured claimant.
By bringing a successful lawsuit, our seasoned lawyers may be able to recover both economic and noneconomic losses including medical bills, lost wages, pain and suffering, emotional distress, loss of enjoyment, replacement services, and out-of-pocket costs. We can recover past, present and future losses. It may be appropriate to pursue punitive damages when a manufacturer's conduct is egregious, such as when it knows of dangers associated with a product but still continues to make and sell and market the product.
If you suffered burns or other injuries due to your use of a Cosori air fryer, you should call the seasoned Chicago-based product liability lawyers of Moll Law Group about your legal options. Give us a call at 312.462.1700 or via our online form if you believe you may have a claim.