Eyedrop Brands are Recalled Due to Contamination and Risks of Injury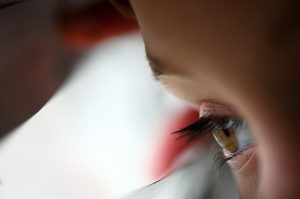 Recently United States health officials warned consumers that certain brands of eyedrops have been recalled because they were contaminated, and the contamination could result in vision trouble and injuries to the eyes. Last month, EzriCare eyedrops were recalled because there had been an outbreak of infections that were drug-resistant and resulted not only in permanent vision loss to five, but also the death of another. This month there were two new recalls for eyedrops distributed by Pharmedica and Apotex. So far, the latest recalls do not seem related to the earlier one, but it is best to be cautious. If you were injured by eyedrops, you should called the seasoned product liability lawyers of Moll Law Group.
Contact Moll Law Group About Your Claim
Apotex and Pharmedica told the Food and Drug Administration (FDA) they are voluntarily pulling certain lots of eyedrops from the market. Both companies had consulted with the FDA to determine that the products should be recalled.
Pharmedica has recalled two lots of its eyedrops. It also warned consumers to immediately stop using the drops and to bring them back to the place they were bought. The recalled eyedrops are Purely Soothing 15% MSM Drops, which are intended to treat irritated eyes. Around 2900 bottles were recalled due to risk of consumer blindness from using the product. However, injuries have not been reported.
The recalled Apotex eyedrops, distributed under the name Brimonidine Tartrate Ophthalmic Solution 0.15%, are prescribed to treat glaucoma. Cracks were located in a handful of the eyedrop bottle caps. The recalled drops were sold between April 2022- February 2023. No injuries have been reported in connection with the use of drops.
Those injured by eyedrops may have grounds to sue for damages arising out of those injuries. It is important to retain an experienced attorney to represent you in a product liability lawsuit, which is very often technical. Both sides may need to retain experts to testify about the product's defects. Eyedrops can be defective in terms of their manufacturing, design (formulation) or marketing. In most cases, marketing defects involve a failure to warn. In this case, it appears that the Apotex eyedrops had a manufacturing defect, the cracks in the bottle caps, that could allow contaminants to get into the bottle.
When our lawyers are able to establish liability for a defect, we can recover compensatory damages on behalf of clients. Damages could include medical bills, the costs of medical equipment, lost wages, loss of enjoyment of living, replacement services, pain and suffering, and out-of-pocket costs. For instance, if you relied on your vision for your job and you were blinded by contaminated eyedrops, we may be able to recover the past, present, and future wages you lost as a result of the contamination.
As a consumer who uses eyedrops, you trust that what you put into your eye is safe. Many people rely on the safety of eyedrops, in particular, during allergy season. If you were injured by eyedrops, you should call the seasoned Chicago-based product liability attorneys of Moll Law Group about whether you have grounds to bring a lawsuit. Give us a call at 312.462.1700 or via our online form if you suspect you may have a claim.