Chicago Nursing Home Burn Injury Attorneys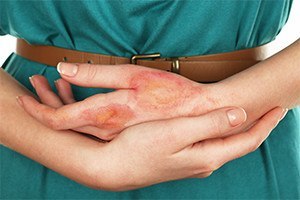 Nursing home residents often rely on staff members to help them with every aspect of daily living. They may not be able to bathe or eat without assistance. Although nursing homes are supposed to be adequately staffed so that each resident receives adequate care, understaffing is a huge problem in nursing homes across the country. As a result, burns can happen during daily activities, such as baths or mealtimes or smoking. In some cases, burns are a form of abuse or the result of a serious structural fire. Burn injuries in an elderly person can be particularly severe and painful, due to their thinner skin. If you or a loved one has been hurt in a nursing home, the Chicago nursing home burn injury attorneys at Moll Law Group are available to pursue a claim for compensation. Our lawyers are experienced in advocating for the rights of vulnerable adults.
Establishing Liability for Burn Injuries
Nursing home residents' rights and safety are protected by federal laws and the Illinois Nursing Home Care Act (the Act). Any facility that falls under the Act's definition for "long-term care facility" must comply with the responsibilities set forth in the Act. Rights that residents have under the Act include the right to be free from abuse or neglect, as well as the right to be cared for by a doctor of their choosing, the right to religious freedom, the right to access their own medical records, the right to be free from restraints unless ordered by a physician, and the right to visitors. A nursing home burn injury lawyer can help Chicago residents take action based on a violation of these rights.
Either a nursing home resident or his or her appointed representative (often a family member) may bring a private lawsuit for abuse or neglect. Abuse as defined by the Act includes any physical or mental injury or sexual assault that is inflicted on a resident that is not the result of an accident. Neglect as defined by the Act can include a facility's failure to provide assistance with a resident's activities of daily living that is necessary to avoid physical harm, mental illness, or mental anguish, among other things. For example, a failure to install temperature controls in a bath or allowing residents to smoke inside without supervision may be considered neglect that increases the risk of burn injuries.
Only the owner or licensee of a long-term care facility can be sued under the Act for an intentional or negligent act or omission by the facility's agents or employees that causes an injury to a resident. A licensee is someone licensed by the Illinois Department of Public Health to operate the facility.
Discuss Your Nursing Home Burn Injury Case with a Chicago Attorney
It is difficult for families to decide to place a loved one in a nursing home, and it is difficult for an elderly person to give up the freedom associated with living alone. When the decision to enter a nursing home is made, the resident and family members place a great deal of trust in the administration and staff of the long-term care facility to provide appropriate care, including any safety measures to avoid burns.
If you or a loved one is harmed in one of these facilities, you may have grounds to pursue a claim for compensation. The Chicago nursing home burn injury lawyers at Moll Law Group represent individuals and families in Wheaton, Naperville, and Schaumburg, as well as across Cook County. Billions of dollars have been recovered in cases in which we have been involved. Call us at 312-462-1700 or use our online form to set up a free consultation with an injury attorney.