Chicago Nursing Home Abuse Lawyer for Sepsis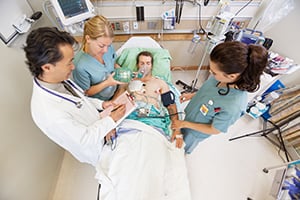 Sepsis happens when bacteria move into an open wound or bedsore, a catheter, or another opening in the body and cause a significant infection. The chemicals that enter the blood in order to fight the infection can cause the body to become inflamed and result in blood clots that block oxygen from getting to various organs. Sepsis needs to be treated right away, or it progresses to septic shock, which involves low blood pressure and low functioning in the organs. Elderly people are at particular risk for sepsis. Often, nursing homes are understaffed, and elderly residents are neglected, resulting in sepsis and wrongful death. A Chicago sepsis attorney can help you explore your options if your loved one suffered sepsis in an open wound or bedsore or catheter, meaning that he or she may have been left unattended for an unacceptable period of time. At Moll Law Group, our nursing home abuse attorneys represent elderly people who have been injured in these situations.
Establishing Liability for Sepsis
There are three stages of septic shock. In the first stage, an elderly resident will experience a high fever of 95 degrees and an increased heart rate. In the second stage, a resident will experience difficulty breathing, abnormal heartbeat, rapid mental changes, and decreased urination. In the third stage, the resident goes into shock, at which point it is difficult to restore his or her blood pressure.
Nursing home residents in Illinois and elsewhere are at risk for being neglected. Nursing homes may not conduct background checks and may not train workers adequately. Budget cuts can result in hiring unqualified workers or too few workers for the number of residents in the facility. Sepsis is a common sign that an elderly person has been neglected by staff.
If you or a loved one is living in a long-term care facility, you have rights to safety and health care that are protected by federal laws as well as the Illinois Nursing Home Care Act. A sepsis lawyer in Chicago can help you enforce these rights. Among other things, there is a right to be free from neglect, which is defined by the Nursing Home Care Act as a failure to provide assistance in connection with a resident's daily living activities as necessary to avoid physical harm. Sepsis is life-threatening for elderly people due to their weakened immune systems, and it sometimes results in a wrongful death. Either you or a loved one may file a claim or lawsuit for abuse or neglect if you have suffered from sepsis or other injuries while in the care of a long-term care facility.
Under the Nursing Home Care Act, you may sue the owner or licensee of a long-term care facility. Moreover, you may also have common law remedies against the owner and the employees under general principles of negligence or medical malpractice. When bringing a lawsuit based on medical malpractice, special rules apply. For example, you will need to file a complaint with an affidavit stating that your attorney consulted with a physician about whether the complaint is meritorious, as well as a medical report.
Retain an Experienced Sepsis Attorney in Chicago
If you or a loved one suffered sepsis as a result of neglect, the Chicago sepsis lawyers at Moll Law Group are available to file a claim or lawsuit for compensation on your behalf. We are committed to pursuing compensation for injured individuals in Naperville, Wheaton, Schaumburg, and communities throughout Cook County. Billions of dollars have been recovered in cases in which our firm has been involved. Contact us online or call us at 312-462-1700 for a free consultation with an injury attorney.