Lawyer for Nursing Home Falls & Fractures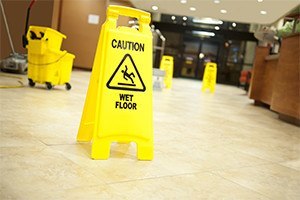 Nursing homes owe their residents an obligation to make sure that their premises are safe and to offer sufficient supervision to prevent injuries that are avoidable. Unfortunately, many nursing homes do not take necessary precautions or staff their homes adequately, thereby failing to meet these obligations. Falls resulting in injuries like fractures and broken bones are a common basis for nursing home abuse claims. Often, it takes longer for a vulnerable elderly person to recover after a fall, and medical complications may arise. At Moll Law Group, our Chicago nursing home fall lawyers provide aggressive representation to residents and their families. Billions of dollars have been recovered in cases in which we have been involved.
Liability and Damages After a Slip and Fall
A resident's fall may be the result of negligence or abuse by staff. Both federal and state laws protect the rights of nursing home residents to receive proper care and to be free from negligence or abuse. The Illinois Nursing Home Care Act is a state law that applies to residents placed in any long-term care facility, such as institutions, private homes, residences, or any other places that offer nursing for three or more residents not related to the owner.
There are several avenues of redress you can take if you are a nursing home resident who suffers a fall or a family member who suspects that negligence caused an elderly loved one's fall. You can file a complaint with the Illinois Department of Public Health or the Long-Term Care Ombudsman. However, for elderly residents who suffer injuries such as fractures or broken bones due to a fall, a private lawsuit may be more appropriate because the injuries will require additional medical care and treatment, and they may result in complications due to the advanced age of the resident.
In a private lawsuit based on the Illinois Nursing Home Care Act, you can enlist a nursing home fall attorney in Chicago to seek damages, attorneys' fees and costs, and an injunction ordering such items as better supervision to avoid future falls. The damages may include a claim for compensation, medical treatment, and pain and suffering. When a staff member pushes an elderly resident as a form of control or punishment, and this results in the resident's fall and associated injuries, the staff member's actions may be grounds to request punitive damages. Under the Nursing Home Care Act, you can recover punitive damages by proving a defendant's willful and wanton misconduct.
In addition to a statutory cause of action, you may also have common-law claims for breach of contract or assault and battery. Nursing homes usually provide a written contract that specifies the services that will be provided, including adequate supervision. A failure to provide one of the enumerated services may be a basis for recovering contract damages. If staff members intentionally abuse residents by pushing them and causing falls, these actions may be the basis for a civil assault and battery claim.
Retain an Experienced Nursing Home Fall Lawyer in Chicago
In Illinois, plaintiffs have two years from the date of an injury or death to bring a personal injury or wrongful death lawsuit. If you or a loved one was harmed due to a fall in a nursing home, you may have grounds to pursue a claim for compensation. The Chicago nursing home fall attorneys at Moll Law Group are available to represent you in a claim for compensation. Our firm represents people in Wheaton, Naperville, and Schaumburg, as well as throughout Cook County. Call us at 312-462-1700 or via our online form to set up a free consultation with an injury attorney.