Nursing Home Choking Accident Attorney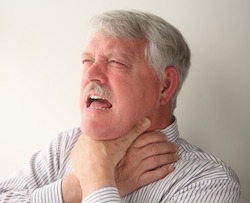 A leading cause of death in nursing homes is choking or suffocation. Often, elderly residents who suffer from cognitive impairments like dementia are unable to eat safely on their own and require additional monitoring or a special diet provided by nursing home staff. In other cases, a resident's breathing tube may be clogged, resulting in breathing interruptions that cause brain damage or death. In the worst cases, choking is a form of physical abuse used to control a nursing home resident. This can result in injuries or death. If your elderly family member is hurt or killed due to a choking incident, you may be able to take legal action. At Moll Law Group, our Chicago nursing home injury lawyers are available to pursue compensation on your behalf. Billions of dollars have been recovered in cases in which we have been involved.
Establishing Liability for Choking Injuries
The Illinois Nursing Home Care Act and the federal Nursing Home Reform Law protect nursing home residents by enumerating their rights to receive appropriate care and providing the procedures by which they can be discharged from a home. Both the Illinois Department of Public Health and the Nursing Home Ombudsmen Program are supposed to protect and enforce these rules.
The Illinois Nursing Home Care Act protects residents' rights in long term care facilities, which include private homes, institutions, buildings, residences, and other facilities that offer personal or sheltered care or nursing for three or more people who are not related to the owner by marriage or blood. The law does not apply to supportive residences, community-integrated living arrangements, community living facilities, or facilities operated by the state or federal government hospitals.
Under the Illinois Nursing Home Care Act, residents have certain guaranteed rights, including the right to your own personal doctor, the right to be informed of your medical diagnosis and care, the right to refuse medical treatment unless it is necessary to prevent harm to others, and the right not to be physically restrained without a doctor's orders. When a facility violates your rights, such as by failing to provide appropriate care in connection with choking hazards, you can file a private lawsuit, file a complaint with the Illinois Department of Public Health, or file a complaint with the Long-Term Care Ombudsman. The first of these options is only available to you or your legal representative.
A private lawsuit is brought in order to recover damages, injunctive relief, attorneys' fees, and costs. Compensation may include a claim for abuse, as well as treatment of physical or mental health problems and pain and suffering. For willful and wanton conduct, such as choking an elderly patient as a means of control and abuse, a nursing home may be liable for punitive damages.
There may also be other causes of action available, depending on the facts of your case. For example, nursing homes are required to provide a written contract that includes the services to be provided, the term of the contract, and the amount of deposit paid. A nursing home's failure to abide by the terms of the contract can result in liability for a breach of contract.
Discuss a Nursing Home Injury Claim with a Chicago Lawyer
If you or a family member suffered choking injuries due to the abuse or neglect of nursing home staff and personnel, the Chicago nursing home injury attorneys at Moll Law Group are available to help you pursue compensation and other relief. Our firm represents injured individuals in Wheaton, Schaumburg, Naperville, and throughout Cook County. Call us at 312-462-1700 or complete our online form to schedule a free consultation with an injury attorney