Clogged Breathing in Nursing Homes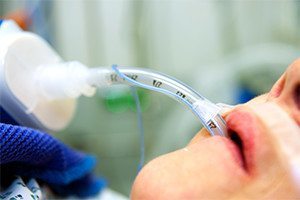 When a sick, elderly family member must be put in a nursing home, you want to assume that he or she will receive better care than you would be able to give. However, many elderly people have difficulty taking care of daily activities for themselves. Among other medical problems, some nursing home residents may require a breathing or endotracheal tube attached to a ventilator or breathing bag. In some cases, when a breathing tube is needed for extended periods, doctors may put in a tracheostomy tube. When an endotracheal tube is placed, the patient is usually not able to speak and cannot communicate with the nursing home staff. Nursing home staff need to make sure the tubes stay clean and mucus-free, or serious complications may result. If you or a loved one experienced injuries due to clogged breathing tubes, the Chicago nursing home negligence attorneys at Moll Law Group are available to help you file suit against the facility and staff.
Establishing Liability for Clogged Breathing Injuries
In order to make sure a breathing tube does not become clogged, nursing home staff must be appropriately trained to take certain precautions. For example, the tube needs to be suctioned periodically to remove mucus from a resident's lungs. In some cases, the tube must be reinserted after being displaced. Some elderly people suffer from dementia or other ailments that can lead to agitation, and in those cases, it may be necessary to sedate the patient or restrain him or her appropriately to make sure the tube is not removed.
Under federal law and the Illinois Nursing Home Care Act, elderly nursing home residents are supposed to be protected against neglect or abuse in the nursing home. The Illinois Nursing Home Care Act applies to people who are placed in any long-term care facility. These facilities can include private houses, institutions, residences, or any other home that offers nursing care for three or more residents to whom the owner is not related.
Failing to provide appropriate care in connection with breathing tubes likely constitutes neglect and in some cases may constitute abuse. If a resident suffers injuries or dies due to the inappropriate maintenance of breathing tubes, you may have a basis to sue for breach of contract, statutory violations, or negligence. For example, nursing homes owe a duty to residents and their families to properly train staff charged with maintaining residents' breathing tubes to clean and maintain those tubes so that the residents can breathe properly. A failure to train staff in appropriate maintenance that results in clogged breathing tubes and causes a patient's death is likely to be considered negligence.
Under the Illinois Nursing Home Care Act, a resident or an authorized family member may recover damages and injunctive relief, as well as fees and costs. Compensatory damages may include medical bills, pain and suffering, mental distress, and loss of enjoyment. Some elderly people are afraid to file a complaint because they are concerned about retaliation. Retaliation for filing a complaint against a nursing home is also prohibited and actionable. In cases of egregious misconduct by staff members, it may be possible to request punitive damages, which are damages designed to punish the defendant and deter future similar misconduct.
Consult an Experienced Nursing Home Negligence Attorney in Chicago
If you have suffered injuries from clogged breathing tubes, or if you are a family member of a neglected resident, you should consult the Chicago lawyers at Moll Law Group about suing for compensation. Our firm represents people in Naperville, Schaumburg, Wheaton, and communities throughout Cook County. Billions of dollars have been recovered in cases in which we were involved. Call us at 312-462-1700 or use our online form to set up a free consultation with an injury attorney.