Elder Financial Exploitation Lawyer in Chicago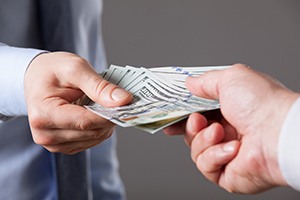 Financial exploitation is a growing problem in nursing homes in Illinois and elsewhere. Often, residents are particularly vulnerable to deceit and coercion because they may need help, may be medicated, or may lack full cognitive function. Sometimes they are not aware of financial abuse. If you are a family member of someone in a nursing home and suspect abuse, you should investigate as soon as possible. The experienced Chicago nursing home abuse lawyers at Moll Law Group can help residents and their families seek compensation in cases of financial exploitation.
Holding a Facility or Caregiver Liable for Financial Exploitation
Financial exploitation may include forging a resident's signature, stealing a resident's money, deceiving a resident into signing documents, improperly obtaining a power of attorney, cashing checks without authorization, and other similar actions. It may occur in a coercive and abusive manner, and it may also occur through deception. Families should be alert to any significant changes, such as a transfer of money or assets, sudden changes in a will or trust, reduced living conditions, missing belongings, additional names on a bank card, or frequent checks written to a particular caregiver.
The Nursing Home Care Act, the Elder Abuse and Neglect Act, and the Illinois Act on Aging may apply to a case of financial exploitation in an Illinois nursing home. Among the rights that nursing residents have is the right to manage their own finances. When a staff member suspects that a nursing home resident is a victim of financial exploitation, they are required to report the abuse under the Elder Abuse and Neglect Act. Criminal charges may also apply to a financial exploitation case.
If you are a nursing home resident or a family member who brings a lawsuit under the Nursing Home Care Act as a result of financial exploitation, you may be able to recover compensation. The injuries related to financial exploitation are not only the tangible financial losses but also the loss of trust and other emotional consequences. It may be possible to recover the costs of emotional counseling and obtain an injunction.
In some cases, there are grounds to file suit under common law as well. These may include causes of action for fraud, negligence, or breach of contract.
Under 720 ILCS 5/17-56, the financial exploitation of an elderly or disabled individual is a crime. It occurs when someone stands in a position of trust with an elderly or disabled person and either knowingly or by deception or intimidation gets control of the vulnerable person's assets or resources. A criminal case is separate from a civil lawsuit for damages. However, findings in the criminal case could affect your civil lawsuit and ability to recover compensation, so it is wise to consult an attorney as soon as possible.
Discuss Your Nursing Home Abuse Case with a Chicago Lawyer
Financial exploitation may take an enormous toll on an elderly person in a nursing home. If you or your loved one suffers harm due to financial exploitation by nursing home staff or another caregiver, it may be appropriate to take legal action. The Chicago attorneys at Moll Law Group can guide you through this process. Our firm represents victims in Naperville, Schaumburg, Wheaton, and communities throughout Cook County. Billions of dollars have been recovered in cases in which we have been involved. Contact us at 312-462-1700 or through our online form to set up a free consultation with an injury lawyer.