Chicago-Based Lawyers for Magnet Ingestion Claims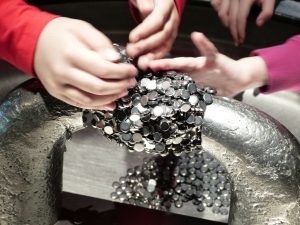 Children in Chicago and elsewhere are often extremely curious. They may put things in their mouths that are dangerous or should not be consumed. Among the many attractive products that may intrigue kids are magnets, whether refrigerator magnets or magnetic spheres or toys that contain magnets. They may be drawn by a bright color or by a toy's magnetic properties. In August 2021, Zen Magnets and Neoballs Magnets were recalled because they posed an ingestion hazard. If you suspect your child has swallowed a magnet or more than one magnet, it is crucial to take him or her to receive emergency care. You may be concerned about the bills. Many families do not have enough money to cover the hospital bills or care required by the injuries suffered due to magnets. You should discuss what happened with the experienced Chicago attorneys of the Moll Law Group. Billions have been recovered in cases with which we've been involved.
Recall of Zen Magnets and Neoballs Magnets
When a child swallows two or more high-powered magnets, whether accidentally or intentionally, the magnets that were consumed may be attracted to each other or a different metal object. They could become lodged in the child's digestive system. The presence of the magnets can result in twisting or blockage of the intestines, along with blood poisoning and death.
The mandatory recall involved both Zen Magnets and Neoballs magnets, which are highly powerful spherical magnets that are 5 mm in diameter.  Neoballs are sold in a range of colors, including green, red, purple, blue, silver, gold, and orange. They were packaged with "Neoballs' or "Zen Magnets" printed on the package. In total, around 10 million magnets, packaged individually and in sets, were recalled.
The manufacturer of Zen Magnets came to be aware of two kids that ingested their magnets and needed surgery to remove not only the magnets, but portions of their bowels and intestines. The Consumer Product Safety Commission (CPSC) also learned of other children and teens who had consumed magnets and needed surgery. A girl who was 19 months old died after ingesting similar high-powered magnets.
Disclaimers
You shouldn't assume that when a manufacturer of children's toys or products adds a disclaimer they are absolved from liability when the product was used as intended. Manufacturers, designers or distributors need to make sure that when the product is used appropriately, it won't cause injuries or deaths. When a product manufacturer receives information about injuries or deaths related to defects or failures in their products, they should provide adequate warnings to users and let them know what they should do.
Importantly, manufacturers may have a duty to warn the public even after selling the product. Moreover, recall of a product, such as a magnet toys, doesn't necessarily mean a user of the product has a claim. It is important to consult a seasoned attorney about your situation, whether your child was injured by magnets, or some other children's product.
Damages in a Chicago Product Liability Lawsuit
Many families don't have enough saved in case their child needs an unexpected surgery due to magnets or other swallowed toys. When we bring a product liability lawsuit, we seek compensatory damages, and punitive damages as appropriate. Compensatory damages can include:
Emergency medical expenses,
Past, current and future medical bills for treatment,
Hospitalization costs,
Therapy and rehabilitation costs,
Lost wages,
Lost future earnings in keeping the job in which you were prior to sustaining injuries,
Burial costs and funeral expenses in wrongful death lawsuits
Pain and suffering
Mental anguish,
Emotional distress.
Hire an Experienced Product Liability Attorney
Tragically, some businesses put profits ahead of the safety of the children who use or are exposed to their products. When this happens, the result can be serious, disabling injuries or death. Our lawyers may be able to pursue damages in a product liability lawsuit. If your child was injured or killed due to swallowing magnets, you should discuss your situation with the dedicated Chicago child injury attorneys of the Moll Law Group. We represent families in product liability lawsuits. Contact us online or call us at 312.462.1700.