Chicago Lawyers for Hair Relaxer Cancer
Chicago Lawyers for Hair Relaxer Cancer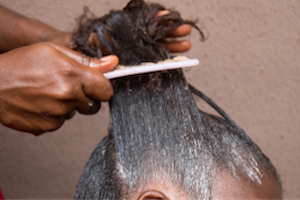 Many people, particularly women, straighten their hair using chemical based hair relaxers. Sometimes this is done at the behest of an employer. Unfortunately, chemicals in those relaxers may be a contributing factor in uterine cancer. Certain studies link cancerous chemicals in the hair relaxer to an increased risk of cancer, as well as serious side effects. The first hair relaxer cancer lawsuit has been filed in Illinois District Court. If you developed uterine cancer and suspect it is the result of a hair relaxer that you used, you should call the Chicago product liability lawyers of Moll Law Group. Billions have been recovered in lawsuits with which with we've become involved, and we are strong advocates for consumers.
Call Moll Law Group About Your Uterine Cancer Claim
Manufacturers who marketed their products to women without adequately disclosing possible health risks may be liable in a product liability lawsuit. Hair relaxers use very high heat, along with strong, and sometimes toxic chemicals to destroy disulfide bonds. These bonds are the long-term hair bonds responsible for your natural hair type, whether that is wavy, curly, or straight. Hazardous chemicals in hair relaxer may include formaldehyde, metals, parabens, and bisphenol.
Relaxer may carry particular risks because of increased absorption through the scalp which may be exacerbated by burns and lesions caused by straighteners. Each of these is known for particular capacity to trigger cancer and disrupt hormone function. Research has shown that the rate of uterine cancer may be almost 3 times greater among those women who frequently use hair relaxing chemicals as compared to those who never used relaxer.
A lawsuit has already been filed against L'Oréal and other manufacturers over the marketing of hair relaxer to African American women without adequate disclosure. The plaintiff started using hair relaxer when she was 10 and regularly put chemicals on her scalp through March 2022, following hair relaxer instructions and leaving chemicals for the proper period of time. Her lawsuit alleges that her exposure to phthalates and chemicals that disrupted her endocrine system causes her to develop uterine cancer at age 28. Among the lawsuit's allegations are that it is illegal to formulate a cosmetic product with an ingredient that renders it unduly dangerous even when used appropriately.
Often, black women use hair relaxers on a regular basis to style their hair to be straight, and in some cases it is a requirement for work, making it particularly important to pay attention to the potential harm arising out of a link between uterine cancer and hair relaxer.
Product Liability Lawsuit
If you developed uterine cancer and believe it is the result of a hair relaxer, you may be able to recover damages in a product liability lawsuit. These lawsuits are typically brought in connection with a manufacturing, design, or marketing defects. Failure to warn of uterine cancer would be considered a marketing defect. However, it would be crucial in any uterine cancer claim to retain an expert who can look into whether your specific situation meets the criteria for a failure to warn lawsuit. When you work with an experienced product liability attorney, they will work with reputable and credible experts on the technical issues in your case such as whether there is a causal link between the hair relaxer you used and the uterine cancer you developed.
Recovering Damages in a Product Liability Lawsuit
If our Chicago attorneys can successfully establish liability for a hair relaxer lawsuit, we may be able to recover damages. These may include compensation for economic and noneconomic losses like pain and suffering, emotional distress, mental anguish, loss of enjoyment, and loss of consortium.
Consult an Experienced Chicago Hair Relaxer Attorney
If you suffered uterine cancer and suspect it is because of hair relaxer, you should call the seasoned Chicago-based personal injury lawyers of Moll Law Group about whether you have grounds to sue. Give us a call at 312.462.1700 or via our online form if you suspect you may have a claim.