Firefighting Foam
Injury Lawyers Advocating for Victims Nationwide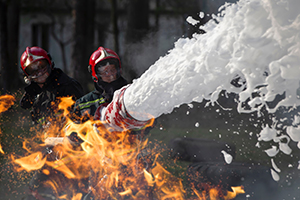 Firefighting aqueous film-forming foam may include two per- and polyfluoroalkyl substances (PFAS). These are a family of artificial chemical compounds that are also included in various other products. If you were diagnosed with cancer or a loved one was killed because of firefighting foam, you should discuss your situation with the firefighting foam injury lawyers at Moll Law Group. Billions of dollars have been recovered in cases in which our product liability lawyers have been involved.
Cancers associated with PFAS include:
Kidney (renal) cancer
Testicular cancer
Pancreatic cancer
Bladder cancer
Leukemia
Lymphoma
Prostate cancer
Liver cancer
Breast cancer
Colorectal cancer (colon and/or rectal cancer)
Firefighting Foam
Per- and polyfluoroalkyl substances may be ingested orally, absorbed through the skin, or inhaled through atmospheric exposure. It is important to firefighting department personnel to use certain precautionary measures like containing and managing run-off from the foam and water, wearing personal protective equipment when handling foam, using cleaning wipes, showering within one hour of coming back to the station or home, and replacing older foam with fluorine-free foam. Firefighters may face unnecessary risk of cancer when using certain firefighting foams, particularly in large quantities.
Additionally, when firefighting foams are repeatedly used in a single location over a long period, they can move from the foam into the soil and groundwater. Different amounts may move into the groundwater, depending on the foam used and the kind of soil into which it leeches. Wells can also be contaminated by the foam. While the contamination may not always present a risk, when the foam is used repeatedly or in large volumes, it can be a health hazard.
The highly durable nature of PFAS means they do not break down over time. Because of this, it may remain in the body for years. When foam accumulates in your body, it can result in serious adverse health effects, such as increased risk of a number of cancers, including kidney, testicular, pancreatic, bladder, prostate, liver, breast and colorectal cancers; lymphoma and leukemia. If you suffer an adverse health consequence as a result of the long-term build-up of the chemicals from firefighting foam, you may be able to bring a product liability lawsuit with the assistance of a firefighting foam injury attorney.
Product Liability Lawsuits
Product liability laws vary from state to state. Product liability lawsuits allow people to recover damages from manufacturers and other sellers in the distribution chain of a dangerous product. There are three types of potential defects that could be found in firefighting foam: marketing, design, and manufacturing defects. Design defects are flaws in the firefighting foam that exist in every iteration of it. Marketing defects are problems with the marketing of firefighting foam based on a failure to warn. Manufacturing defects are one-off flaws; they exist in some iterations or batches of the product, but not others.
Theories of liability that may be asserted in a product liability case include strict liability, breach of warranty, and negligence. Strict liability claims can be a little more straightforward than negligence claims. In a strict liability claim, you will not need to prove that the defendant owed a duty of care and breached it in manufacturing the firefighting foam that harmed you. Instead, to recover damages under a theory of strict liability, an injury lawyer who handles firefighting foam cases will need to prove that it is more likely than not that you were injured by a firefighting foam made unreasonably dangerous by design, manufacturing, or marketing defects, and that the defect existed when the product left the defendant's hands.
Damages
If we can establish a manufacturer's liability for your injuries from their firefighting foam, we may be able to recover compensatory damages. These are damages intended to put you back in the position in which you would have been had you not been exposed to the dangerous firefighting foam. Compensatory damages could include economic and non-economic losses, such as medical bills, lost wages, loss of enjoyment of life, pain and suffering, loss of consortium, and replacement services.
When a loved one dies from defects in firefighting foam that caused testicular, kidney, or bladder cancer, family members may be able to recover damages in a wrongful death lawsuit.
Consult a Seasoned Product Liability Attorney
If you were injured or a loved one was killed due to firefighting foam, you should talk to the experienced attorneys at Moll Law Group. Our Chicago-based lawyers have represented many people who have been injured due to dangerous products. Contact us online or call us at 312.462.1700 to discuss your situation with an injury attorney who handles firefighting foam cases.