Benzene Sunscreen
Chicago-Based Lawyers for Benzene Sunscreen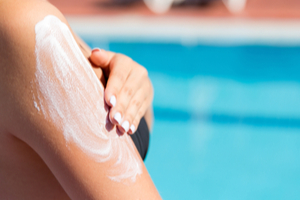 Alarming findings have been made regarding the presence of benzene in many different aerosol sunscreen products made by the company. Benzene is a harmful carcinogen; it is associated with cancer. After recalls of sunscreen products in the summer of 2021, recalls occurred again in the fall of 2021. As a consumer, you should be aware that several companies, including Johnson & Johnson and Coppertone have asked consumers to stop using their products. If you were diagnosed with blood cancer, leukemia, or another type of cancer that you believe may be the result of using sunscreen aerosol products, you should call our dedicated Chicago product liability attorneys about your claim. We represent clients across the country. Billions have been recovered in lawsuits with which we've become involved.
Benzene in Sunscreen
In spring 2021, Valisure LLC, which is an independent lab, tested and discovered that nearly 300 batches of sunscreen and 78 products and 69 companies contained benzene. The World Health Organization has categorized benzene as a category 1 carcinogen. Evidence suggests benzene is linked to DNA damage, which in turn causes cancer.
Two months after the report from Valisure, the manufacturer Johnson & Johnson announced it agreed that benzene was in several of its sunscreen products; it moved forward on a voluntary recall that included five different sunscreens sold under the brand names Neutrogena and Aveeno. By fall 2021, there were sixteen lawsuits filed against Johnson & Johnson. The court has consolidated these cases in multidistrict litigation entitled "IN RE: Johnson & Johnson Sunscreen Marketing, Sales Practices and Products Liability Litigation"
It is believed that the benzene may have appeared in these sunscreen products due to contamination while the manufacturing process was underway.
Commonly-purchased products in which the carcinogen was found include specific products made by Neutrogena, Banana Boat, CVS Health, BabyGanics, Walgreens, Coppertone, and Aveeno. Since litigation was filed against Johnson & Johnson, Coppertone has recalled five of its sunscreen products due to the presence of benzene in several lots.
Sunscreen products that have been recalled include:
Aveeno Protect + Refresh
Neutrogena Cool Dry Sport
Neutrogena Invisible Daily Defense
Neutrogena Beach Defense Oil-Free Body Sunscreen Spray, SPF 100+
Neutrogena Beach Defense
Neutrogena Ultra Sheer
Coppertone, Travel-size Sport Spray SPF 50
Coppertone Sport Mineral SPF 50
CoppertonePure & Simple SPF 50
Coppertone Pure & Simple Kids SPF 50
Coppertone Pure & Simple Baby SPF 50
Product Liability Lawsuits in Chicago
Actionable defects in products can be categorized as marketing, manufacturing, or design defects. The sunscreen litigation filed against Johnson & Johnson asserts that there are manufacturing defects, along with other claims related to advertising. Manufacturing defects are flaws that happen when a product is being made. They are not the result of errors in formulating a sunscreen product such that all the products are harmful.
There are also product liability lawsuits that are complicated by doctors' errors. For instance, if your father developed cancer due to benzene exposure and it wasn't caught and diagnosed by a family physician in time for treatment to be successful, you might have a wrongful death claim against not only the manufacturer of the product, but also his health care provider.
Damages
If our attorneys are able to successfully establish liability for your cancer or its progression, we may be able to recover compensatory damages on your behalf. These include:
Medical bills including expensive treatments and procedures.
Loss of income
Lost earning capacity
Pain and suffering
Loss of enjoyment
Loss of consortium
Unlike compensatory damages, which are intended to make up for losses, punitive damages in a product liability lawsuit are those sought to punish a defendant that knows it is selling a defective product that may harm consumers, and to deter future wrongdoing.
Consult an Experienced Sunscreen Claims Attorney
Many families are unprepared for the costs of treating cancer. In some tragic cases, a person dies because of her use of a product and trust in what seemed to be a harmless, widely used product. If you sustained injuries due to the benzene in a sunscreen product, you should call the Chicago-based lawyers of the Moll Law Group. Our law firm has spent years honing its experience representing those injured due to dangerous products. We are ready to represent you in asserting your rights. Hoping to help consumers and the public head off the need for litigation, we also offer critical injury-prevention information. Please contact us through our online form or call us at 312.462.1700.