Hand Sanitizer
Chicago-Based Law Firm for Hand Sanitizer Claims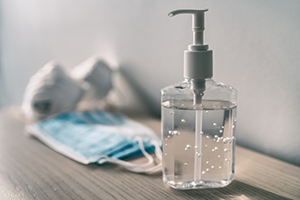 At the start of the pandemic, many health care providers and news organizations advised the public to protect themselves by more frequently washing their hands and using hand sanitizers. The latter resulted in an increase in using hand sanitizers, a relaxation of regulations, and the concomitant production of alcohol-based sanitizers by companies that had not previously made them. However, the boom of production of hand sanitizers in the United States will now likely slow because the Food and Drug Administration (FDA) intends to use stricter manufacturing guidelines again in 2022. You should be aware of the potential dangers that have been identified in connection with alcohol-based hand sanitizers. Benzene, methanol, and other potentially harmful toxins have been identified in them. If you were injured or a loved one died, and you suspect it was from exposure to the chemicals in hand sanitizer, you should talk to the dedicated Chicago product liability lawyers of the Moll Law Group. Billions have been recovered in lawsuits with which we've been involved.
Harms Associated with Hand Sanitizer
Effective December 31, 2021, temporary guidance that the FDA issued in March 2020 in connection with alcohol-based hand sanitizers will be withdrawn. Because of the public health emergency presented by COVID-19, temporary guidance had allowed companies that were not drug manufacturers at that time to make specific alcohol-based sanitizers, as well as the alcohol to be used in those products.
Since the relaxation of regulations, the FDA has named several different risks they associate with alcohol-based hand sanitizer. For instance, it found nine hand sanitizers contained high degrees of methanol, a solvent used in an industrial context, as well as in pharmaceuticals. This chemical can have harmful impacts on users of products that contain methanol even in the short term such as blindness, neurological damage, and death.
Additionally, unacceptable levels of toxins such as benzene, acetaldehyde, and acetal contaminants have been found in the hand sanitizer brand artnaturals. Consumers have been urged by the FDA not to use these contaminated products.
Risks of Chemical Exposures in Hand Sanitizers
It is important not to use a hand sanitizer product that contains benzene, methanol, or which has been recalled by the manufacturer or distributor. Similarly, you should not use hand sanitizers that have been recalled or that have been made at the same facility as products tested by the FDA that contain benzene or chemicals such methanol, acetyl, 1-propanol, or acetaldehyde.
In some cases, distributors use more than one manufacturer to make their hand sanitizers. Yet, the hand sanitizers are marketed under the same brand or name. In fact, the manufacturer may not be identified on the label. Consumers need to know that the FDA's recommendation against using a particular hand sanitizer may not extend to the distributor's product that carries the same name but is made by a different company.
Product Liability Lawsuits in Chicago and Across the Country
When you're injured by a hand sanitizer that is defective, it is crucial to seek legal counsel and representation. Hand sanitizer may be defective in terms of its marketing, manufacturing, or design. Expert testimony is likely to be needed. Because there are often technical issues involved in product liability lawsuits, it is important to retain a lawyer who understands how to present evidence by both experts and laypeople to make sure you obtain the best results available, given your specific situation.
Complaints for product liability lawsuits in or around Chicago typically assert multiple different theories that may for a basis for obtaining damages. These theories can include negligence, strict liability, breach of warranty, and statutory remedies related to advertising or fraud. Each state has its own rules.
Damages
If our attorneys are able to establish liability, we may be able to recover damages. These are often compensatory damages such as:
Medical bills
Lost wages
Lost earning capacity
Pain and suffering
Mental anguish
Loss of enjoyment.
Retain a Seasoned Hand Sanitizer Attorney
If you believe you may have been injured due to hand sanitizer, you should call our Chicago-based lawyers. For years, the Moll Law Firm has represented those injured by defective products, as well as the loved ones of those who died due to these products. Although we are experienced in a courtroom, we aim to give the public resources they need to access important injury-prevention materials. We are ready to represent you in asserting your rights. Please contact us through our online form or call us at 312.462.1700.