Arc Airbag Lawsuits
Chicago Attorneys for ARC Airbag Lawsuits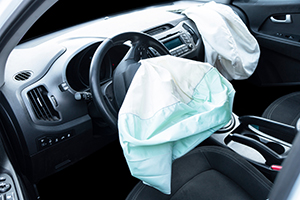 Lawsuits have been filed against ARC Automotive Inc, which provides airbag inflater technology around the world. ARC airbag inflators have been installed in many different cars over the years, including models of Kia, Hyundai, Volkswagen, Ford, and General Motors (GM). The lawsuits, which have also been filed against those vehicle manufacturers, allege that the defective inflators can explode and cause injuries to those riding inside a car and that the defendants failed to warn consumers about the risks that the airbags could explode. If you or a loved one was injured as the result of a defective ARC air bag inflator, you may be able to sue for compensation. Call the experienced Chicago product liability lawyers of Moll Law Group to determine whether you have grounds to sue.
Call Moll Law Group About Your ARC Airbag Lawsuit
Tens of millions of cars made over the last decade include airbag inflator parts made by ARC Automotive. Manufacturers who have used the airbag inflators in their cars include Ford, General Motors, Audi, Volkswagen (VW), Hyundai, and Kia. In fact, the National Highway Traffic Safety Administration (NHTSA) estimates that more than 51 million cars on the road are installed with ARC airbag inflators. According to the lawsuit that's been filed, ARC Automotive and other car manufacturers didn't warn consumers that there was a risk that the metal inflator canister in the airbag inflator could explode on impact during frontal air bag deployment. The explosion puts those riding in the car at risk of serious injuries or even death.
The recalls affect specific model years of GMC Acadia, Buick Enclaves, and Chevy Traverses. Around 3 recalls of ARC airbag inflaters have occurred since the NHTSA started investigating problems back in 2015.
An airbag inflator is a metal canister of ammonium nitrate gas. This gas is nonflammable, but it is volatile and unstable, and used in numerous industries, including those that make propellants, explosives, herbicides and fertilizers. When triggered, gas floods the airbag and expands it. However, the affected ARC airbag inflators can explode, particularly under extreme heat conditions, and fling shrapnel and metal fragments into the cabin of the vehicle. Airbag ruptures have killed at least two people and seriously injured more. The defect is not only in airbags on the driver's side, but also the passenger side of affected cars.
While ammonium nitrate gas was historically used in airbags, more recently, the industry has decided to use other gases, like guanidine nitrate, rather than ammonium nitrate because of the potential dangers of the gas. The defect in the ARC airbag has been compared to the Takata airbag defects, which killed at least 19 people around the country.
File an Arc Airbag Lawsuit
In August 2022, a class action, the second one filed against ARC Airbag, was proposed in the United States District Court of South Carolina. The plaintiffs alleged failure to warn that resulted in monetary losses, as well as loss of use of the vehicles affected, and also asserted that ARC Automotive should have been aware of problems with its airbags through internal testing.
Investigation into the airbags is ongoing. If you were injured or a loved one died because of an exploding airbag that resulted in flying shrapnel or fragments, it's important to discuss your potential claim with our experienced lawyers. You should save any documentation related to the airbag explosion, including any medical records that are pertinent to your injuries. When a loved one dies as the result of an exploding airbag, our lawyers may be able to pursue wrongful death damages, which in many states can include compensation for both economic and noneconomic losses arising out of the death.
Call an Experienced Chicago ARC Airbag Defects Attorney
If you were injured or a loved one was killed as a result of a defective ARC airbag, you should consult our seasoned Chicago product liability lawyers about whether you have a claim. Moll Law Group advocates for drivers and passengers injured around the country as the result of defective automobile parts, and works with smart, credible experts who can help determine liability of the manufacturers. Billions have been recovered in cases with which we've been involved. Get in touch with us at 312.462.1700 or through our online form if you suspect you may have a claim.