Baby Food Toxins
Chicago Attorneys for Injuries and Illnesses Due to Baby Food Toxins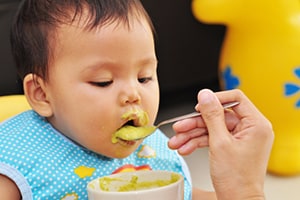 Disturbingly, baby food may incorporate toxic metal whether it's made in the store or prepared at home. When babies are exposed to heavy toxins, the result may be illness or developmental and cognitive issues. It may be appropriate for parents to pursue compensation for their losses. If your baby was injured or made ill by baby food, you should call the trustworthy Chicago product liability lawyers of Moll Law Group. We are dedicated to representing consumers, including parents and families. It is critical to seek legal counsel when going up against powerful manufacturers and retailers so that you can be on a level playing field as you seek justice against them. Billions have been recovered in cases with which we've been involved.
Baby Food Toxins
Surprisingly scientists and others involved with the organization Healthy Baby, Bright Futures conducted research, but did not find evidence to show that homemade baby food is better for babies than the food that comes in jars at the grocery store. Around 288 foods that were bought in various stores and markets across the country were tested for arsenic, lead, cadmium, and mercury, which are chemicals that sit among the World Health Organization's top 10 chemicals of concern. Toxic metal exposure can damage a developing brain and impact a baby or child's behavior, cognition, and learning. Heavy metals were detected in around 94% of the manufactured foods, along with homemade purees made from food purchased raw.
Results showed 94% of manufactured baby foods, family foods, and homemade purees made from purchased raw foods contained detectable amounts of one or more heavy metals. Lead, in particular, were found in a large percentage of manufactured baby food. The next highest chemical levels were of arsenic, which was found in both baby food and home-made food. Often even organic foods also contained heavy metal levels, though scientists believe that buying organic foods could help avoid toxins the reports didn't consider, like pesticides and herbicides. Moreover, there are regional differences in the presence of toxins; in some states there were greater amounts of lead or arsenic in fresh foods, especially those that had grown underground.
Families have been advised to offer babies a wide range of foods to avoid toxicity and provide the highest degree of nutrients. Generally, fresh bananas were the least contaminated foods. Researchers found an 82-fold difference in the average level of total heavy metals from the food that was most contaminated—rice cakes. Some of the healthier foods that were lower metal were good snack choices for babies: yogurt, cheese, beans, and applesauce. Fresh and frozen fruit were also potential choices for baby snacks. Canned food, including fruits, tend to contain more lead.
Product Liability Lawsuits Based on Baby Food
If your baby was injured as a result of food that contained toxins and you believe the food was defective you may have grounds to sue for damages in a product liability or other consumer lawsuit. Whether you can recover compensation depends on the particular circumstances, making it crucial to talk to a seasoned lawyer. Generally, a product liability lawsuit may be filed because of any of the following kinds of defects: manufacturing, design, and marketing. Theories under which product liability lawsuits can be pursued—this varies by state—include breach of warranty, negligence, and strict liability. For example, if a manufacturer failed to abide by a safety protocol such that there was an undue amount of lead in a batch of its baby food, there may be a manufacturing defect.
When our Chicago-based product liability lawyers are able to establish liability for toxic baby foods on your behalf, you can recover compensatory damages for the losses sustained by you and your baby. Compensation can include both economic and noneconomic damages including medical bills, lost wages, pain and suffering, emotional distress. When a manufacturer's conduct is egregious, we may be able to obtain punitive damages, which are damages intended to punish and deter a defendant's wrongdoing.
Consult an Experienced Chicago Baby Food Attorney
If your baby was made sick or otherwise harmed because of toxin-contaminated food, you should call the seasoned Chicago-based personal injury lawyers of Moll Law Group about whether you have grounds to bring a lawsuit. Give us a call at 312.462.1700 or via our online form if you suspect you may have a claim.