JUUL E-Cigarettes
Product Liability Attorneys Advocating for Injured Consumers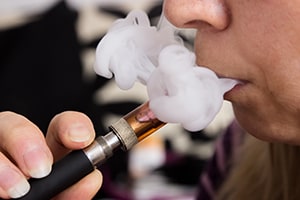 E-cigarettes have been marketed as a technology that can help adults stop smoking. However, rather than serving adult smokers trying to quit, the e-cigarette industry now overwhelmingly targets kids who do not smoke. One brand of e-cigarettes that has attracted recent attention is the JUUL brand. There is not enough known about the possible health effects of e-cigarettes, but the Food and Drug Administration is concerned about the increase in their use because they deliver nicotine. As a stimulant, nicotine can have adverse effects on a still-developing brain. At Moll Law Group, our skillful e-cigarette injury lawyers can pursue litigation arising out of injuries suffered due to the use of JUUL e-cigarettes.
JUUL E-Cigarettes
The JUUL vape device, made by JUUL Labs, has taken over the e-cigarette market. Studies show that the amount of nicotine in the JUUL e-cigarette is higher than it is in other e-cigarette products. The concentration of nicotine in the JUUL e-cigarette is high enough to be toxic to living cells. Researchers have tested cultured respiratory system cells in vitro, and the JUUL e-cigarette was the only type of e-cigarette with high enough nicotine concentrations to be toxic. There are about 61 milligrams per milliliter of fluid in pods, which is equal to more than what is found in an ordinary cigarette pack. Researchers worry that a new generation of teens will become addicted to nicotine.
Researchers also found that even though there were not too many flavor chemicals used to make the eight flavors of JUUL pods, many were there in high concentrations. Some of them had high enough flavor concentrations that they were particularly appealing to adolescents. Some of the flavor chemicals are ethyl vanillin, cinnamaldehyde, and diacetyl, and these are found in fruity or buttery e-liquids. Diacetyl is used to flavor popcorn, but inhaling it can result in bronchiolitis obliterans, a serious lung disease.
If you were harmed by the JUUL e-cigarette, or if your child suffered harm from using it, contact Moll Law Group today for a FREE consultation.
Congressional Hearing
In 2019, a congressional hearing was held in which JUUL executives were questioned by lawmakers. The cofounder of the company claimed that they did not want minors to use the e-cigarettes but admitted that there were missteps. JUUL executives claimed that the company is not Big Tobacco and that it wanted to help eliminate the conventional cigarette, but lawmakers questioned the choices made in design, including what seemed to be purposeful replication of Marlboro cigarettes. Teenagers also testified that a presenter from JUUL told them in an anti-vaping presentation that JUUL was safe. Representative Rashida Tlaib pointed out that JUUL changed its image only after the FDA pointed out its dangerous advertising.
Product Liability Claims
When someone is harmed by a dangerous product, such as an e-cigarette, it may be possible to bring a product liability lawsuit against the manufacturer for compensation. In order to establish liability, your attorney will need to show that the product was defective in its design, manufacturing, or marketing. There may be both design and marketing defects in these e-cigarettes.
Often, marketing defect claims involve a failure to adequately warn about the dangers of a product. JUUL is marketed as a safe alternative to cigarettes and a safe way to stop smoking. However, it may include as much nicotine as cigarettes include, or more, and it can create an addiction for people who had no addiction before. Furthermore, when JUUL e-cigarettes include diacetyl, a flavoring that is ordinarily harmless, the diacetyl takes the form of hazardous vapors, which can cause bronchiolitis obliterans, also known as popcorn lung. Popcorn lung is a condition that makes it hard to breathe and can cause aggressive coughing, which may later turn into complete respiratory collapse.
If liability is established in a lawsuit based on e-cigarettes or other dangerous products, your attorney likely can recover compensation for non-economic (intangible) and economic (concrete) losses. Non-economic losses may include pain and suffering, loss of enjoyment of life, and mental anguish. Economic losses are often documented, and they may include such items of loss as lost wages, medical bills, and replacement services.
Consult an Experienced E-Cigarette Injury Attorney
If you were harmed by the JUUL e-cigarette, or if your child suffered harm from using it, you may have a basis to receive compensation by suing the manufacturer in a product liability lawsuit. The experienced product liability lawyers at Moll Law Group are familiar with e-cigarettes and the potentially serious problems with them. Call us at 312.462.1700 or contact us via our online form.
JUUL Frequently Asked Questions
What are the side effects of JUUL?
Some of the side effects of using JUUL are:
Lung Disease
Seizure Disorder
Lung Collapse
Bronchiolitis Obliterans ("Popcorn Lung")
Pneumonitis
Bleeding
Extreme coughing, and more.
What is popcorn lung from vaping?
Bronchiolitis obliterans, also known as popcorn lung, is a medical condition that damages the bronchioles, which are the lung's smallest airways. Popcorn lung leads to scarring of the air passages, which makes them narrower and harder for you to get enough air.
What are the dangers of vaping?
E-cigarettes contain many harmful ingredients such as:
Nicotine
Metals, such as nickel and lead
Particles that can be inhaled into the lungs
Chemicals that can lead to serious lung disease or cancer
Volatile compounds
Ken Moll was featured on the TODAY Show to talk about JUUL's marketing to teenagers: