Land Contamination
Toxic Torts Attorneys Helping Victims Nationwide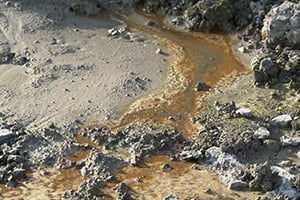 For years, corporations were able to dump toxic materials into the soil and into landfills without oversight. The soil would become contaminated with materials that could cause cancer or other serious illnesses to people living in the area. Nowadays, waste needs to be contained by liners to stop the leakage of toxic chemicals into nearby soil or groundwater. However, older landfills and dumps that were not subject to contemporary regulations may just now be causing injuries to families living nearby. If you have received notice that your soil is contaminated with a toxic chemical, and you have suffered from cancer, a weakened immune system, birth defects, or another serious illness, you should consult the land contamination lawyers at Moll Law Group. Billions of dollars have been recovered in cases in which our toxic torts attorneys have been involved.
Establishing Liability for Land Contamination
Corporations have dumped toxic chemicals such as arsenic, lead, benzene, TCE, MTBE, pesticides, and more into the soil for years. Sometimes the effects of the dumping can take years to show up in nearby neighborhoods, but when they do, the consequences can be devastating to individuals and families. In addition to permanent injuries or death, property values go down in nearby communities, leaving those suffering the most with no ability to pay off medical bills and other expenses.
What you will need to prove in a land contamination case depends on the circumstances involved and whether any statute or regulation specifically covers the conduct of the corporation dumping the toxic materials into the land. Generally, you would need to establish the defendant's negligence by proving that the substance was toxic, the defendant owed you a duty of care, the defendant breached that duty by dumping the toxic substance in the ground, you were exposed to it, your injuries were caused by it, and you suffered injuries.
When regulations or statutes were violated, it may be easier to establish both duty and breach of duty. In some cases, negligence per se (negligence as a matter of law) may exist, making the case easier to prove. Negligence per se can be established if a law regulating a particular type of conduct was violated, the plaintiff is a member of the group the law was intended to protect, harm was caused by the violation, and this harm was the type of harm against which the law was supposed to protect.
It can be challenging, however, to establish that land contamination was the cause of an injury. Often, years have passed between the time that a chemical was dumped and the time that someone develops cancer or another ailment because of it. As with asbestos cases, many key witnesses may have forgotten details or lost important documentary evidence. It may help your case if multiple people in a neighborhood suffer from the same illness, likely in connection with the toxic chemical exposure.
It is important to retain an experienced land contamination attorney. If you are able to prove your case, you may be able to recover compensation for medical bills, lost income, lost earning capacity, pain and suffering, loss of enjoyment, and property damage.
It may be possible to recover punitive damages when a defendant's conduct is particularly egregious, such as when a corporation knows that it is dumping toxic chemicals into the land with insufficient protections in place. These are damages that are intended to punish the defendant and deter similar future misconduct.
Consult a Land Contamination Lawyer to Protect Your Rights
If you believe you suffered an illness due to the dumping of chemicals, the land contamination attorneys at Moll Law Group are available to help you pursue compensation. We are committed to securing justice for consumers around the nation, including in states such as Illinois, Michigan, Texas, Ohio, Pennsylvania, New York, Florida, and California. Billions of dollars have been recovered in cases in which our firm has been involved. Contact us online or call us at 312-462-1700 to set up a free consultation with a land or water contamination attorney.