Legionnaire's Disease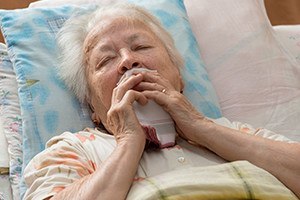 Attorneys Assisting Toxic Tort Victims
Legionnaire's disease is a serious and potentially lethal form of pneumonia caused by the common waterborne bacteria Legionella. It was discovered first in 1976, and according to the Centers for Disease Control and Prevention (CDC), 8,000-18,000 people are hospitalized with it every year around the country. Legionellae are found in lakes, reservoirs, cooling towers, indoor pools, hot tubs, decorative water fountains, humidifiers, and other structures and systems of water. Bacteria can easily multiply in warm water if systems are not properly designed or cleaned as legally required for safety. Establishments sued by toxic tort attorneys in Legionnaire's disease lawsuits include senior housing facilities, condominiums, hotels, and hospitals. If you suffer from Legionnaire's disease due to the improper construction, development, design, engineering, or maintenance of a system that is the source of an outbreak, the Legionnaire's disease lawyers at Moll Law Group can take legal action on your behalf.
Pursuing Compensation for Legionnaire's Disease
Legionnaire's disease may result in acute renal failure, sepsis, brain damage, heart failure, neurological dysfunction, and other ailments. In most cases, it is possible to pursue a negligence or premises liability lawsuit. In negligence claims, a plaintiff must allege and prove the defendant's duty to abide by a particular standard of care, a breach of duty, causation, and actual damages.
Currently, no statutes or regulations establish a duty of care specific to controlling the Legionella bacteria, except in the health care industry. In some Legionnaire's cases, it is necessary to turn to industry guidelines or OSHA standards. The guidelines of the United States Environmental Protection Agency, CDC, or Association of Water Technologies, as well as the guidelines of the Accreditation of Health Care Organizations, may be used to establish a standard of care.
Breaches of duty in a Legionnaire's case may include a failure to ensure proper chlorination, a failure to maintain the appropriate temperature to eliminate the growth of bacteria, or a failure to flush water systems of contaminants. The breach must be the cause of your disease in order to be actionable.
When using a premises liability theory, your Legionnaire's disease attorney must allege and prove that the defendant had a duty to inspect, repair, or test the water system being used and failed to do so in a reasonably safe way to avoid harm to invitees. Invitees in most states include customers or others on the property for a business purpose. For example, if you caught Legionnaire's disease while using spa facilities, you might have a basis to sue the owner of the spa for premises liability. However, most premises liability claims require you to establish actual or constructive notice. This may be difficult to establish unless there is a confirmed outbreak of the bacteria in a particular venue.
In order to establish that a particular venue or business was the source of the bacteria, you will need to establish a link between the onset of your disease and the premises. The bacteria incubate for 2-18 days before symptoms develop, so you will need to identify the places where you were immediately before that period. In addition to the medical tests required for diagnosis, confirmation that you were exposed in a particular place requires sampling and testing of the water at that place.
In some cases, there may be facts that demonstrate a design problem or other errors in constructing an artificial water system. In some states, it may be necessary to bring a professional negligence claim, which may necessitate a more detailed investigation before the complaint is brought.
Consult a Legionnaire's Disease Lawyer
The Legionnaire's disease attorneys at Moll Law Group are available to assist you in seeking compensation. We provide legal representation to people in Naperville, Schaumburg, Wheaton, and communities throughout Cook County. Billions of dollars have been recovered in cases in which we were involved. Call us at 312-462-1700 or use our online form to schedule a free consultation with an injury attorney.