Roundup Weed Killer Lawsuits and Lawyers in Chicago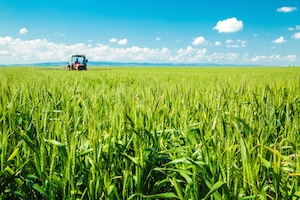 NO LONGER TAKING NEW CASES
Diseases Associated With Exposure to Roundup
Non-Hodgkin's Lymphoma (NHL)
And Its Many Subtypes:
B-Cell Lymphomas

Diffuse large B-cell lymphoma (DLBCL)
Follicular lymphoma
Chronic lymphocytic leukemia (CLL)
Small lymphocytic lymphoma (SLL)
Hairy cell leukemia (HCL)
Mantle cell lymphoma
Marginal zone B-cell lymphomas

T-cell lymphomas

Peripheral T cell lymphomas (PTC)
Product Liability Attorneys Representing Victims Nationwide
Roundup is one of the mostly commonly used herbicides or weed killers. However, the World Health Organization (WHO) has found that it is a probable carcinogen. Studies connect the product to non-Hodgkin's lymphoma, B-cell lymphoma, and T-cell lymphoma, and many plaintiffs have sued the manufacturer of the weed killer, Monsanto Co., for damages arising out of their health problems. Specifically, plaintiffs allege that studies have linked glyphosate, the active ingredient in Roundup, to lymphoma. Many of these plaintiffs are agricultural workers who used the product on a regular basis. If you have suffered harmful health effects that you believe may be the result of using Roundup, you should consult the Roundup injury lawyers at Moll Law Group. Billions of dollars have been recovered in cases around the nation in which our toxic tort attorneys have been involved.
If you suffered cancer or other health related problems to to your use of this product, contact Moll Law Group today for a FREE consultation.
Pursuing Compensation for Injuries Caused By Roundup
The claims brought by plaintiffs in these cases include strict liability, willful negligence, and breach of implied warranty. They allege that the weed killer has marketing defects and a design defect because it could have been made less hazardous. Plaintiffs' complaints also allege that Monsanto claimed that Roundup was harmless and safe for humans, animals, and the environment, and that the data supporting these statements was falsified. The product has been used on farms for almost 40 years without public knowledge that its use was dangerous. However, the manufacturer has continued to deny that Roundup is harmful.
Product liability lawsuits require a plaintiff to allege a recognized defect, which can be a design, marketing, or manufacturing defect. Design defects are flaws in the original formulation or design of a product, and they exist in all samples of the product.
Generally, in design defect cases, a plaintiff must prove that there was a foreseeable risk presented by the product when it was manufactured as intended and used for foreseeable purposes. Often, plaintiffs also need to prove that the risk of harm could have been reduced by an alternative design that was feasible and had the same utility. Marketing defects are often failure to warn cases, in which a manufacturer did not provide warnings about serious side effects or risks of injuries associated with using the product. For example, some Roundup injury attorneys have helped plaintiffs allege that Monsanto failed to warn of the risk of lymphoma associated with ingredients in Roundup.
In many states, you can sue for defective products under a strict liability theory. This means you only need to prove that the product had a recognized defect and that the defect caused actual injuries or harm. However, in certain states, you need to prove negligence, which means that the manufacturer's actions or omissions fell below a particular standard of care. Proof of defects usually requires expert testimony.
If you are able to establish defects, you may recover compensation for your injuries. The amount of compensation is designed to put a plaintiff back in the same position he or she would have been in prior to being harmed by the product. They may include medical expenses, lost income, and other tangible damages. They may also include noneconomic damages like pain and suffering. If a plaintiff is able to establish fraud or that a manufacturer falsified data, he or she may also be able to recover punitive damages. These are damages designed to punish the defendant and deter similar future misconduct.
Explore Your Options with a Roundup Injury Lawyer
Fieldworkers use weed killer routinely, and they may have been exposed to serious risks. If you suffered cancer or other health problems due to your use of this product, the Roundup injury attorneys at Moll Law Group are available to help you pursue all appropriate forms of relief. Our firm represents injured individuals across the country, including in states such as Michigan, Texas, Ohio, Illinois, Pennsylvania, New York, Florida, and California. Contact us through our online form or call us at 312-462-1700 to schedule a free consultation with an injury attorney.
Frequently Asked Questions
Is Roundup harmful to humans?
Yes. Glyphosate, a known carcinogen, is an active ingredient in Roundup and is known to increase the risk of non-Hodgkin's lymphoma, B-cell lymphoma, and T-cell lymphoma.
What alternatives are there for Roundup?
There are many homemade alternatives to Roundup, such as a combination of acetic acid (vinegar), salt, and oil or soap. The soap will break down the coating and natural barriers that the weeds produce to protect themselves, giving the acid and salt a better chance at penetrating and killing the weeds.
What are the symptoms of non-Hodgkin's lymphoma?
Some signs and symptoms of non-Hodgkin's lymphoma can include:

Painless, swollen lymph nodes in your neck, armpits or groin
Abdominal pain or swelling
Night sweats
Unexplained weight loss
Chest pain, coughing or trouble breathing