Roundup in Beer and Wine
Toxic Tort Lawyers Advocating for Injured Consumers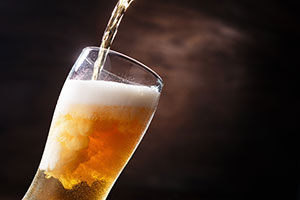 One of the most commonly used weed killers is Roundup. It is likely a carcinogen, and it is linked to non-Hodgkin's lymphoma. Monsanto, the manufacturer of Roundup, has been sued on the basis that glyphosate, Roundup's active ingredient, is connected to non-Hodgkin's lymphoma. However, Roundup is not only found in weed killer. A recent study shows that it is also found in beer and wine. If you have been diagnosed with non-Hodgkin's lymphoma as a result of Roundup in beer or wine, you should talk to the Roundup injury lawyers at Moll Law Group. Our toxic tort attorneys have been involved in lawsuits around the country in which billions of dollars have been recovered.
PIRG Report on Weed Killer in Beverages
Recently, a report was released by a public interest advocacy group that shows the test results of 15 beers and five wines. U.S. PIRG's report shows that there were traces of glyphosate, the active ingredient in Roundup, in 19 out of 20 alcoholic beverages that were tested. The beer brands tested were Peak Organic IPA, Samuel Smith Organic Lager, Stella Artois Cidre, Samuel Adams New England IPA, New Belgium Fat Tire Amber Ale, Sierra Nevada Pale Ale, ACE Perry Hard Cider, Stella Artois, Guinness Draught, Heineken, Corona Extra, Budweiser, Miller Lite, Coors Light, and Tsingtao, with Tsingtao having the highest trace levels of glyphosate of the beers tested. The wine brands tested included Frey Organic Natural White, Inkarri Malbec, Barefoot Cabernet Sauvignon, Beringer Founders' Estate Mercato, and Sutter Home Merlot, which had the highest trace levels of glyphosate.
Weed killer products are prohibited when making organic wines and beers. Even so, according to PIRG, glyphosate was found in three out of four organic alcoholic beverages.
U.S. PIRG stated that the levels of glyphosate were not dangerous per se, but they were a matter of concern because of the link to non-Hodgkin's lymphoma. The International Agency for Research on Cancer, which is a branch of the World Health Organization, has stated that Roundup is a probable human carcinogen.
The spokesperson for the Beer Institute told USA Today that its members work with farmers who try to raise their crops safely and sustainably. It remarked that the federal testing shows that farmers' use of glyphosate is much lower than federal limits. A spokesperson for the Wine Institute noted that someone would need to drink more than 140 glasses of wine each day, and that wine would need the highest glyphosate level measured to get to the level noted as "No Significant Risk Level" by California's Office of Environmental Health Hazard Assessment.
Other companies whose products had been tested told USA Today that they contested the PIRG study's accuracy regarding the presence of Roundup in beer or wine. However, some acknowledged that it was possible that there were trace amounts of herbicides, and this was outside their control. An organic winery stated that it had never used herbicides in its farming practices, but glyphosate in trace amounts can be found in rainwater because it is applied to conventionally farmed agriculture. Trace amounts of glyphosate are thus found in many food products.
Through the lead author of the study, Kara Cook-Schultz, PIRG responded that regardless of the efforts of those who make alcoholic beverages, the likelihood is that consumers will drink glyphosate at each barbecue and happy hour around the country. Coors Lite had the highest concentration of American beers,with 31.1 parts per billion, but this was far below the greatest value reported, 51.4 ppb, which would require someone to drink 308 gallons of wine each day in their life to get up to the EPA's glyphosate exposure limit.
The EPA regulates which pesticides can be used on any crop that will be consumed. It also restricts how much glyphosate can stay in or on food. In the United States, glyphosate can go up to 400 parts per million for certain types of animal feed that are not grass. The EPA did not find a meaningful risk to humans if a product was used according to the pesticide label.
Litigation
However, in October, a San Francisco judge upheld a jury verdict that the weed killer, Roundup, made a 42-year-old groundskeeper sick from non-Hodgkin's lymphoma. The damages were reduced from $289 million to $87 million. The first federal lawsuit against Monsanto has started in San Francisco; the plaintiff claims that Roundup caused him to develop non-Hodgkin's lymphoma. Around 9,300 people have sued throughout the country.
Ms. Cook-Schultz has stated that since the federal court is examining the link between Roundup and cancer, Americans deserve to know that glyphosate presents a risk and is everywhere, including in beverages that they love.
Product Defects
Claims brought by plaintiffs and their attorneys in connection with the glyphosate in Roundup hinge on theories of strict liability, breach of implied warranty, and willful negligence. Some plaintiffs claim that Roundup could have been designed to be less dangerous. Plaintiffs in these lawsuits sometimes also claim that Monsanto falsely claimed that Roundup was safe and harmless for humans.
Consult an Experienced Roundup Injury Lawyer
If you were harmed by Roundup in beer or wine, you may have a basis to sue for damages by pursuing a lawsuit against the manufacturer. Moll Law Group is a Chicago-based firm that is familiar with the nuances of these cases. Call us at 312.462.1700 or use our online form to set up a free consultation with an attorney.