Crock Pot Pressure Cookers
Chicago Product Liability Firm for Damages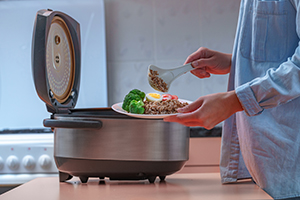 Pressure cookers, such as Crock Pot, can seem like a simple way to cook lunch or dinner. It may seem like a method that is less time-consuming than more traditional methods. Unfortunately, pressure cookers are not always safe and Sunbeam Products, the company that owns Crock-Pot, recalled almost 1 million pressure cookers due to the potential danger of burns in November 2020. The recall covered the Crock-Pot 6-Quart Express Crock Multi-Cookers that were made between July 2017 – October 2018. Pressure cooker accidents could result in liquid or steam burns and scalding injuries. In some situations, these injuries are catastrophic or even fatal. If you were injured or a loved one was killed by a defective pressure cooker, our experienced Chicago product liability attorneys may be able to represent you in a lawsuit for damages. Billions have been recovered in lawsuits with which we've been involved.
Crock Pot Pressure Cookers
After the Crock Pot recall, the Consumer Product Safety Commission noted that the lid could suddenly detach while the pressure cooker was in use. The result could be burn risks to consumers and users. The burns occurred because of hot food and liquids coming out of the cooker. At the time of recall, there had been 119 reports of lid detachments and there had been 99 burn injuries that ranged in severity from first to third-degree burns. If you were injured or a loved one was killed while using a Crock Pot pressure cooker, you should consult an attorney.
As a home cook, you may not have realized the potential dangers of Crock Pot pressure cookers. If you were injured or a loved one was killed due to a defective pressure cooker, it may be appropriate to bring a product liability lawsuit.
Liability
In order to recover damages in a product liability lawsuit, our lawyers will need to show that the pressure cooker had one or more actionable defects; these can include manufacturing, design, or marketing defects. Design defects could include, for example, inadequate seals for the pressure cooker lids. Manufacturing defects tend to be one-off flaws in how a particular pressure cooker or batch of pressure cookers is made.
State laws differ with regard to what theories may be used to demonstrating a defendant's liability. Appropriate theories could include strict liability, negligence, and breach of warranty. In some states, including Illinois, it is possible to recover damages from a seller, manufacturer, or another company in the chain of distribution under a theory of strict liability.
In a strict liability lawsuit, we would not need to show that Sun Beam or another party failed to abide by the standard of care. Our attorneys would need to prove it is more likely than not: (1) you were injured, (2) by a defective pressure cooker. However, to establish negligence, a more complex task in many cases, we would need to establish what the standard of care was, how the defendant breached it, and how the breach caused your injuries.
Recovering Damages in or Around Chicago
When we are able to establish the elements of product liability lawsuits, we can recover damages on our clients' behalf. Damages are often compensatory, meaning they are intended to put an accident victim back in the position he would have been in had there been no accident. They can include:
Medical bills,
Lost income,
Lost earning capacity,
Pain and suffering,
Mental anguish,
Loss of consortium,
Loss of enjoyment.
Your particular traits can affect the amount and nature of your losses. For instance, if you were a model who suffered third-degree burns on your face due to a design flaw in a pressure cooker, we may be able to show you lost your ability to make money based on the defective pressure cooker and also recover lost wages and the costs of ongoing medical care and revision surgeries.
There are situations in which it is appropriate to seek punitive damages. These are damages intended to punish a defendant's past misconduct and deter future misconduct. Juries may award punitive damages when there was egregious misconduct by a defendant. For example, if the manufacturer knew about defects in its products and continued to sell them and never recalled them or issued warnings, punitive damages may be available.
Consult Our Seasoned Product Liability Attorneys
If you were injured or a loved one was killed by a defective Crock Pot or other pressure cooker, you should call the Chicago-based lawyers of the Moll Law Group. Our firm has represented those injured due to dangerous appliances for many years. We provide consumers and the public with resources to make crucial injury-prevention information accessible. We are ready to represent you in asserting your rights. Please contact us through our online form or call us at 312.462.1700.