Salmonella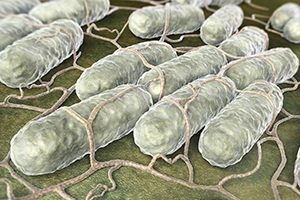 Attorneys Guiding Individuals Nationwide Injured by Contaminated Food
Salmonella is a bacterium that exists in many animals' and humans' digestive tracts. Salmonella poisoning is known as salmonellosis, and symptoms of it include diarrhea, abdominal cramps, fever, vomiting, and nausea. Our Salmonella lawyers know that the two most common sources of Salmonella contamination are failing to wash produce or cook meat thoroughly. Unlike other pathogens, which have a longer incubation period and greater downtime, Salmonellosis symptoms typically appear 12-72 hours after exposure and often last 4-7 days. However, when the elderly, the very young, pregnant women or people with weakened immune systems develop Salmonellosis, there is a risk of much more severe or even deadly symptoms, such as typhoid, dehydration, and pain in the eyes. If you suffer severely and incur medical expenses or other costs due to Salmonella in contaminated food, you should consult the product liability lawyers at Moll Law Group. Billions of dollars have been recovered in cases in which we were involved.
Proving Accountability for Salmonella Poisoning
Although most cases are mild, there are serious consequences to Salmonellosis for some people. Among pregnant women, for example, Salmonella poisoning can cause miscarriage, preterm labor, or stillbirth. Salmonellosis also can sometimes cause enteric reactive arthritis in those who are infected.
Salmonella lawsuits based on contaminated food may move forward on several legal theories, such as strict liability, negligence, and breach of express or implied warranty. Under a strict liability theory, you only need to prove that your illness was caused by consuming the defendant's food. Under a negligence theory, a Salmonella lawyer needs to prove that the manufacturer or retailer did not use reasonable care when manufacturing or handling the food. For example, restaurants must maintain sanitary conditions and serve food that is safe for consumption, such as meat cooked to minimum safe cooking temperatures and produce that has been washed.
Many states have statutes that provide for an implied warranty of fitness, such that food sellers and manufacturers implicitly promise that the food is safe to eat. This warranty would be breached if the food is contaminated with Salmonella.
All of these theories require a plaintiff to establish causation, which can be one of the most difficult things to prove in food contamination cases. However, since Salmonella has a shorter incubation period than some other pathogens, it can be slightly less challenging to trace the Salmonella to a particular food source, restaurant, or grocery.
If you are able to prove your food contamination case, you can recover damages, including both economic and noneconomic forms of compensation. Economic damages may involve items such as medical bills, lab tests, prescription medications, and lost income and earning capacity. Noneconomic damages may extend to mental anguish, pain and suffering, and loss of consortium.
If someone dies in a Salmonella outbreak, his or her next of kin may pursue a wrongful death claim for monetary damages against any parties that are legally to blame. Those that may be held liable include farm owners, food processors, food distributors, restaurants, grocery stores, or homeowners.
Consult a Salmonella Attorney for Knowledgeable Guidance
If you suffered substantial harm due to Salmonella, our product liability attorneys are available to represent you in seeking compensation for your injuries. Moll Law Group assists injured consumers in many states throughout the nation, such as California, Florida, New York, Pennsylvania, Ohio, Missouri, and Texas. Call us at 312-462-1700 or use our online form to set up a free consultation with a Salmonella attorney.