Toxoplasma Gondii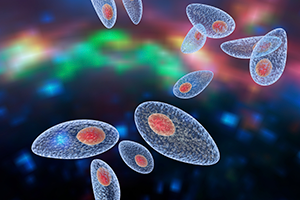 Product Liability Attorneys Helping Consumers Nationwide
Toxoplasma gondii is a single-celled parasite that causes toxoplasmosis. When somebody is healthy, his or her immune system usually fights off the parasite, but the parasite can cause serious problems for those with compromised immune systems, including pregnant women. You can develop toxoplasmosis by eating or having contact with undercooked and contaminated meats, drinking contaminated water, having contact with a cat's litter box if the litter includes toxoplasma gondii, or failing to wash your hands or the fruits and vegetables after picking them from your garden. If you suffer serious symptoms as a result of exposure to toxoplasma gondii spread through food contamination, the toxoplasma gondii lawyers at Moll Law Group are available to help you recover compensation. Billions of dollars have been recovered in cases in which we were involved.
Seeking Damages for Food Contamination Caused by Toxoplasma Gondii
Symptoms of toxoplasmosis can include swollen glands, muscular aches and pains, and eye lesions that cause blurred vision, tearing, and red eyes. Sometimes newborns are affected in the womb. In most cases, they are not born with brain damage or eye problems, but they may develop problems later in life. Your health care provider can have your blood tested for toxoplasma gondii if you have a weak immune system and are at high risk.
It may be possible to recover compensation if you develop symptoms of toxoplasmosis and are able to narrow down how you acquired the toxoplasma gondii. You can sue a food manufacturer or distributor for failing to appropriately cook infected meat, for example. However, in some cases, an infected person has had the infection a long time, giving the defendant a possible defense that there was some other cause. For example, if you are a pregnant woman who owns cats, a food manufacturer may try to establish that you changed your cat's litter and that the litter was contaminated.
To prove your food contamination case, your toxoplasma gondii lawyer will need to prove by a preponderance of the evidence that:
The defendant made, shipped, or served food infected with toxoplasma gondii;
The defendant caused the contamination or did not take steps to keep it from becoming a problem;
You ate the food;
Your doctor diagnosed you with toxoplasmosis; and
You suffered actual injuries due to your exposure to the parasite.
You may use theories of strict liability, breach of warranty, or negligence to establish your claim.
In states that permit a strict liability claim in connection with food contamination, you may not have to show that the manufacturer's conduct fell below the standard of care. However, some states will require you to show that the defendant's actions fell below the standard of care, thereby causing your injuries. For example, if a restaurant serves a filet mignon that is supposed to be medium-rare but is actually undercooked, and you are undergoing chemotherapy and develop toxoplasmosis as a result, you may be able to recover compensation if you can show that the standard of care was breached.
Retain an Experienced Toxoplasma Gondii Attorney
If you or your newborn was exposed to toxoplasma gondii and suffer adverse effects from toxoplasmosis, the product liability attorneys at Moll Law Group are available to help you recover compensation. Our firm represents injured individuals nationwide, including in states such as California, Florida, New York, Texas, Pennsylvania, Ohio, and Michigan. Call us at 312-462-1700 or use our online form to schedule a free consultation with a toxoplasma gondii attorney.