Chicago Drowning Accident Attorneys
Premises Liability Lawyers Representing Victims in Chicago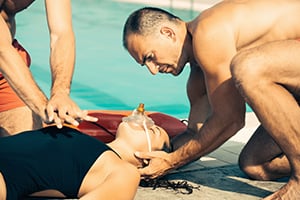 Many people enjoy swimming in the summer. However, about 10 people die from drowning each day in the United States, and drowning is a leading cause of death due to unintentional injury. The Centers for Disease Control and Prevention (CDC) have reported that one in five deaths from drowning happen to children under the age of 15. Many children also must go to the ER for nonfatal injuries caused by drowning. If your child has been injured or killed in a drowning accident caused by someone else's negligence, the Chicago drowning accident attorneys at Moll Law Group are available to file a claim for compensation on your behalf. Billions of dollars have been recovered in lawsuits in which our premises liability attorneys have been involved.
Seeking Compensation for Drowning Accidents
If you or your child suffered serious injuries in a drowning accident, you may be able to pursue compensation for your losses by filing a premises liability lawsuit. These legal actions may be filed when a property owner or swimming pool operator has acted negligently, or failed to follow regulations related to swimming pools.
In Illinois, property owners owe a duty to invitees and licensees to use reasonable care regarding the condition of their property. Generally, this means they must either make repairs to a dangerous condition or issue warnings about it for the benefit of invitees or licensees. However, a property owner's duty toward adult trespassers is more limited, providing only that a property owner cannot willfully and wantonly injure a trespasser. The rule about trespassers does not apply to child trespassers who are governed by the attractive nuisance doctrine. This doctrine recognizes that children are naturally curious and may be intrigued or attracted by an unprotected swimming pool in someone's backyard. However, there is no strict liability under this doctrine as applied in Illinois. Instead, Illinois places a duty on a property owner based on the foreseeability of risk to a trespassing child. A drowning accident lawyer in Chicago can help victims develop an argument that an accident was foreseeable.
If you or a loved one is harmed in a drowning accident caused by a dangerous condition at a public or commercial swimming pool, you may be able to recover compensation if the pool operator knew or should have known by investigating that there was a dangerous condition at the pool, the pool operator could expect that your loved one or you would not discover the danger, and the pool operator failed to use reasonable care to protect you against the dangerous condition at the pool. However, property owners do not owe a duty to warn visitors about an open and obvious danger, except in limited circumstances.
In some cases, drowning occurs due to a defective piece of equipment, such as a pool drain. In that case, it may be appropriate to file a product liability lawsuit against the manufacturer.
Explore Your Options with a Drowning Accident Attorney in Chicago
If you or a loved one has been hurt in a swimming pool, the Chicago drowning accident lawyers at Moll Law Group are available to represent you in a lawsuit against the party that was responsible. We also represent people in Naperville, Wheaton, Schaumburg, and communities throughout Cook County. Contact us online or call us at 312-462-1700 for a free consultation with a personal injury or wrongful death attorney.