Chicago Slip and Fall Accident Lawyers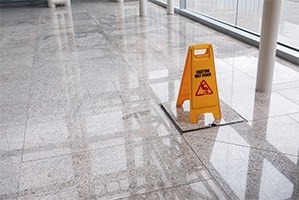 Premises Liability Lawyers Assisting Victims in Chicago
There are many ways that a visitor to another party's property may be hurt. Among the possibilities are fall accidents. The worst falls are from heights. They can be the result of a loose rail on a balcony, a broken step, or a hidden ditch in the ground. Sometimes falls are smaller, but they can still result in fractured or broken ankles, feet, or limbs. If you suffer a fall at someone else's property, such as a mall or a private house, you should consult a Chicago fall accident attorney to explore your legal options. The premises liability lawyers at Moll Law Group can help you bring a claim for compensation.
Pursuing Compensation for a Fall Accident
If you have fallen on someone else's property, you may have grounds to bring a lawsuit against the owner or possessor of the property to seek compensation for your injuries. Generally, to establish a premises liability claim, you need to prove that the owner or possessor owed you a legal duty of care, the owner breached the duty, the breach was the direct cause of your injuries, and you suffered damages due to the breach.
A legal duty of care arises out of an owner or possessor's control over the property. Factors that the court may consider when determining the scope of a defendant's duty include the reasonable foreseeability of an injury, the degree of burden placed on a defendant who must guard against a particular injury, and the consequences of imposing that burden on the defendant.
In some cases, the property owner is the same person or entity as the possessor. For example, a owner of a shopping mall may possess the walkway to the building. If there is a big hole in the sidewalk, and you fall into it, the owner and possessor are the same for the purposes of your lawsuit. However, a storeowner may be responsible for a loose rail on a balcony attached only to that store, and if you fall as a result of the loose rail, your cause of action may be against the storeowner rather than the property owner. Our fall accident lawyers can advise Chicago victims on which parties to sue.
The standard of care that the owner or occupier must follow is that of reasonable care, considering the circumstances surrounding the premises. In order to establish liability as a victim of a fall accident, you need to show that the defendant knew or should have known about the dangerous condition that caused the harm, should have realized that the accident victim would not recognize the danger, and failed to use reasonable care to protect visitors against it.
Actual knowledge can be difficult to establish unless there is video footage or testimony from an employee. "Should have known" is a standard that requires a property owner to use diligence and reasonable care to investigate the property and either make repairs or issue warnings to visitors. Many premises liability cases come down to whether a possessor should have known about a particular dangerous condition.
Enlist a Chicago Attorney for Your Fall Accident Claim
If you suffered injuries in a slip and fall on someone else's property, our Chicago fall accident lawyers can help you sue for the compensatory damages you need to move forward. The injury attorneys at Moll Law Group represent victims across Cook County, as well as in Wheaton, Naperville, and Schaumburg. Billions of dollars have been recovered in cases in which we have been involved. Call us at 312-462-1700 or use our online form to set up a free consultation.