Parking Lot Accidents
Premises Liability Attorneys Serving the Chicago Area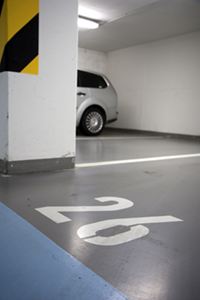 Parking lots are convenient for shoppers. However, they need to be maintained, just like any other area of a landowner's property. Many car accidents and slip and falls occur in parking lots or parking garages. If a property owner's negligence causes you to be injured in a parking lot accident, you may hold the property owner responsible with the assistance of a Chicago parking lot accident lawyer. The compensation that you may be able to recover includes medical bills, lost income, lost earning capacity, the cost of household services, and pain and suffering. The premises liability lawyers at Moll Law Group can guide you through the legal process after a parking lot accident.
Holding a Property Owner Liable for a Parking Lot Accident
Property owners in Illinois owe a duty to lawful visitors to keep their premises reasonably safe. The duty includes an obligation to regularly inspect the property for dangerous conditions and to repair those conditions or provide warnings about them as appropriate. Although property owners cannot insure visitors' safety, they are required to use good-faith efforts to protect them.
Parking lots are usually made of concrete or asphalt, which means that cracks, potholes, and other similar problems are common as time passes. Slip and falls are very common in parking lots. They may be caused by dislocated wheel stops, cracked pavement, debris or oil slicks, ice or rain, or a damaged surface. If the danger is apparent during an inspection, and the owner holds out the lot for public or customer use, the owner is expected to repair it or put up orange cones or other warnings to stop customers from being hurt by the condition.
Lighting may also contribute to a slip and fall or another accident. When there is insufficient lighting, a customer may not see an otherwise obvious pothole or crack. Lighting may also affect a driver's ability to see signs. Property owners may be held responsible for inadequate or poorly lit signs.
Pedestrians can be injured or killed due to driver negligence in a parking lot, and in those cases, it may be more appropriate to sue the driver than the property owner. However, in some cases, the driver used reasonable care in a parking lot that was badly maintained. When this happens, it may be appropriate to retain a parking lot accident attorney in Chicago to bring a lawsuit against the property owner.
Your own negligence in connection with a parking lot accident may reduce your compensation. Illinois follows a modified comparative negligence doctrine, under which if a plaintiff is found more than 50% at fault for an accident, she cannot recover anything from the property owner. This means that the jury will determine damages and also assign a percentage of responsibility to the parties alleged to be at fault. If you are found to be 20% at fault for your slip and fall, for example, the property owner is assigned 80% responsibility, and the damages are $100,000, you may be able to recover $80,000 from the property owner or the property owner's insurer.
As you can see, property owners and their insurers have incentives to try to find ways to suggest that a slip and fall or another accident was your fault. It is critical that you speak to an attorney right away, rather than making an admission to an insurer or property owner's attorney.
Discuss Your Parking Lot Accident Claim with a Chicago Lawyer
If you have been involved in a parking lot accident, the Chicago parking lot accident attorneys at Moll Law Group can help you advocate for your rights to the fullest extent of the law. We represent injured people in Naperville, Wheaton, Schaumburg, and many Cook County communities. Billions of dollars have been recovered in cases in which we have been involved. Call us at 312-462-1700 or contact us online for a free appointment with an injury attorney.