Pothole Accidents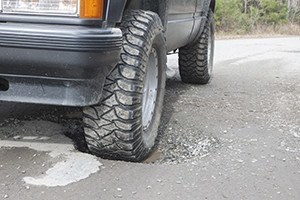 Premises Liability Lawyers Representing Chicago Residents
In some cases, car or motorcycle accidents are caused through no fault of any driver involved. Instead, roads that are badly designed or poorly maintained may be the cause of the crash. Potholes are openings in the road that may be caused by traffic wear and tear. When they are smaller, they put a strain on the suspension and shocks of a car. However, over time, potholes may grow to several feet, and in some cases, they serve to catch rainwater, creating a trap for drivers. Sometimes, potholes not only cause property damage to a vehicle but also result in serious injuries. You should seek guidance from a Chicago pothole accident attorney if you have been involved in this type of accident, The premises liability attorneys at Moll Law Group can sue the owner of the road to pursue compensation on your behalf.
Seeking Compensation for a Pothole Accident
All property owners owe a duty of reasonable care to entrants, including drivers, regarding the safety of their premises. Generally, property owners need not warn visitors about conditions that are open and obvious, and they do not owe a duty to protect visitors from their misuse of the premises. However, a pothole in the road should be repaired, or a warning should be placed.
If you are hurt in a car or motorcycle accident due to a significant pothole, you will need to establish that the pothole is the actual and legal cause of your injuries. You will also need to establish that the owner or company responsible for maintaining the road was negligent in its duty to provide a safe road or failed to warn of the hazardous pothole. If the road is private, and you were entitled to be on the road, you may need to establish that the owner had actual or constructive notice of the pothole and failed to either repair the road or issue a warning. A pothole accident lawyer in Chicago can assist you with this process.
However, in many cases, the federal, state, or local government owns the road in question. In those cases, your attorney will need to determine whether it is possible to sue the governmental agency or entity responsible for the road and pothole. Most governmental entities have sovereign immunity, which is immunity from all lawsuits, except when that immunity has been specifically waived. Most of the time, a government's negligent maintenance is an exception to immunity.
In Illinois, the Court of Claims Act and the State Lawsuit Immunity Act govern lawsuits against the state, while the Local Governmental and Governmental Employees Tort Immunity Act governs lawsuits against local public entities. Under the Court of Claims Act, seven judges hear tort cases against the State of Illinois, including any claims for contribution. You must give notice within one year in order to file suit.
Discuss Your Pothole Accident Case with a Chicago Attorney
The Chicago pothole accident lawyers at Moll Law Group are available to help you pursue compensation for injuries sustained in a pothole accident. We represent people in Naperville, Schaumburg, Wheaton, and communities throughout Cook County. Billions of dollars have been recovered in cases in which we were involved. Call us at 312-462-1700 or complete our online form to set up a free appointment with an injury attorney.