Porch Accidents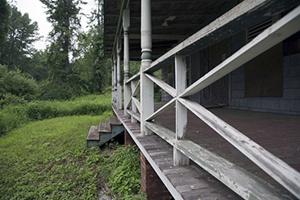 Premises Liability Attorneys Assisting Chicago Residents
Many older buildings have wooden porch extensions in front of or behind them. In some cases, the buildings have multiple levels, and the porches are built at great heights. Porch collapses may occur due to excessive weight, weak support beams, rot, soil subsidence, foundation deterioration, or rusting nails. If a home was built before modern-day building codes required it to be able to support a particular load, it may not be as sturdy as it should be. You should contact a Chicago porch accident lawyer if you are injured on someone else's property. The experienced premises liability lawyers at Moll Law Group can represent you in a lawsuit for compensation.
Pursuing Compensation After a Porch Accident
Landowners owe a duty of reasonable care to those whom they invite onto their property. The cases in which this duty is most obvious involve businesses inviting customers onto their premises. However, a duty may be imposed in many different circumstances. In determining whether a duty is owed, a court will look at the reasonable foreseeability of injuries, the likelihood of injuries, how great a burden it is to guard against injuries, and the consequences of placing a particular burden on a defendant. However, under the Illinois Premises Liability Act, there is no duty to warn of latent defects.
Someone who owns or controls property may be liable for a visitor who is hurt in a porch accident if the owner:
Knew of the dangerousness of the porch or should have known in the exercise of reasonable care;
Should expect that visitors would not discover or realize the danger of the porch; and
Fails to use reasonable care to protect visitors invited onto the property.
The owner of the porch must have actual or constructive notice that the porch is dangerous in order to be held liable. Notice may be particularly challenging to prove, making it important to work with a porch accident attorney in Chicago who understands how to establish this crucial element. A prior accident may provide proof of notice. There may be constructive notice if an owner would have known that the porch was deteriorating by regularly inspecting it but failed to do so.
Illinois follows an open and obvious doctrine, which means that landowners do not owe a duty to invitees for any physical harm that is caused to them by a condition that is known or obvious to them, unless the landowner should anticipate that there will be harm in spite of the obviousness. Thus, if a porch rail was hanging off, such that you should have seen that it was damaged, but you leaned on it anyway and fell off the porch, you may not be able to recover compensation.
Discuss Your Porch Accident Case with a Chicago Lawyer
If you have been involved in a porch accident on someone else's property, you may be entitled to compensation. The Chicago porch accident attorneys at Moll Law Group are available to review your case and seek compensation for your injuries. Our firm assists injured individuals in Naperville, Schaumburg, Wheaton, and communities throughout Cook County. Billions of dollars have been recovered in cases in which our personal injury attorneys have been involved. You can contact us online or call us at 312-462-1700 to set up a free consultation.