Falling Merchandise
Chicago Attorneys Skilled in Premises Liability Claims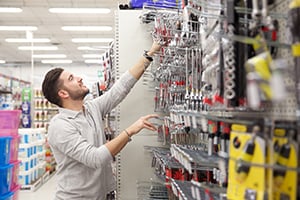 When you think of falling merchandise, you may think of something small striking a shopper, who then resumes his or her shopping. However, serious injuries may be sustained from falling merchandise when heavy objects like bathtubs, table saws, lumber, ladders, televisions, or pallets are improperly stacked. Injuries arising out of an incident of falling merchandise may include traumatic brain injuries, back injuries, cuts, amputations, paralysis, broken bones, coma, or even death. At Moll Law Group, our experienced Chicago premises liability lawyers are available to help you pursue a claim for compensation if a business' negligence caused your injuries.
Injuries Caused by Falling Merchandise
Under the Premises Liability Act in Illinois, a property owner owes a duty to use reasonable care toward invitees and licensees regarding the condition of the property. All stores owe an obligation to use reasonable care to avoid injury to their customers, who are considered invitees.
Merchandise that is stacked too high, precariously, unsecured, on defective pallets, or with inadequate shrink wrapping presents a dangerous condition for people shopping. Warehouses and super discount stores are especially likely to have heavy merchandise stacked at great heights. As a customer, you may hold a store liable for harm caused to you by a dangerous condition like improperly stacked merchandise if the store knew or would know by using reasonable care that there was a dangerous condition on the property, the store should have expected you would not discover the danger or would fail to protect yourself against it, and the store failed to use reasonable care to protect you against the danger that merchandise would fall on you. You are entitled to assume that the store will take reasonable care to investigate its premises to determine whether there is a danger to customers and thereby discover that merchandise has not been properly stacked or is stacked too high to be safe.
Generally, stores do not owe a duty to warn if a dangerous condition is open and obvious. However, a customer may be distracted, and it is rare that falling merchandise would be observed ahead of time. A customer is unlikely to look up while shopping to see merchandise that is precariously stacked at a great height, and therefore unlikely to see the potential dangers.
Illinois follows the rule of comparative negligence. This means that your compensation may be reduced by your percentage of fault if you were partially responsible for your injuries. However, you still may receive compensation if you were no more than 50 percent at fault. If a jury assigns you more than 50 percent of the responsibility for the accident, you will be barred from recovering compensation.
Contact a Premises Liability Lawyer in Chicago
If you were hurt by falling merchandise in a store, the Chicago attorneys at Moll Law Group are available to represent you in a claim for compensation against the business. We are committed to pursuing justice for people in Naperville, Wheaton, Schaumburg, and cities throughout Cook County. Billions of dollars have been recovered in cases in which our firm has been involved. Contact us online or call us at 312-462-1700 to set up a free appointment with an injury attorney.