Playground Accidents
Premises Liability Attorneys Helping Victims in Chicago and Surrounding Areas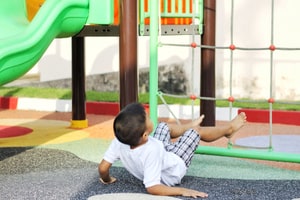 Parents may trust that playgrounds with their monkey bars, swings, slides, and seesaws are safe spaces for their young children, but many children suffer injuries on playground equipment and must be taken to the emergency room. Injuries can include internal damage, bone fractures, cuts, burns, crush injuries, and concussions. Serious injuries may require emergency medical care, parental time off work, a child's time away from school, and possibly even future medical expenses. If your child has been injured at a playground, the Chicago playground accident lawyers at Moll Law Group are available to pursue a claim for compensation. Billions of dollars have been recovered in cases in which our premises liability lawyers were involved.
Seeking Compensation for Playground Accidents
Many playgrounds today are covered in softer materials to minimize injuries. However, there may still be hazards or broken materials exposing plastic or metal, and it is best to check. Types of equipment that could be defective include slides, jungle gyms, tire swings, park swings, playhouses, merry-go-rounds, and sliding poles. The appropriate defense for a playground lawsuit depends on whether defective playground equipment or an improperly maintained playground caused the injury. In some cases, injuries happen because the playground is improperly maintained by the local government or a school. In those cases, a plaintiff needs to pursue a claim against the responsible entity that controls or owns the playground. It would be appropriate to bring a premises liability claim. However, in most states these claims against the government require you to file a notice of claim first to give the government advance notice of the injury. A shortened window of time typically applies to the claim, and the governmental entity has an opportunity to settle the claim before it proceeds into litigation and eventually trial. It is important to consult a playground accident attorney in Chicago right away if your child is injured on a playground in case the shortened window of time applies. Otherwise, you may lose your right to pursue a claim for compensation.
Also, manufacturers of playground equipment are expected to make sure their products are safe. In most states, manufacturers can be held strictly liable if a product is defective and hurts someone as a result. Some states do not allow strict liability and require the plaintiff to prove not only that there was a defect but also that the manufacturer failed to use reasonable care. There are three types of defects: design defects, manufacturing defects, and marketing defects. Design defects exist when the design is flawed so that the object is unreasonably dangerous to the children playing on it. Usually, design defects, if they exist, are found in every specimen from a product line. Manufacturing defects exist when the equipment has been manufactured incorrectly so that the final product deviates from the design. Marketing defects exist when there are inadequate instructions or warnings, and the lack of appropriate instructions or warnings makes the product unsafe.
Consult a Knowledgeable Playground Accident Lawyer in Chicago
If your child was badly injured at a playground, the Chicago playground accident attorneys at Moll Law Group are available to pursue a claim for compensation against the responsible party on your behalf. We represent accident victims in Naperville, Wheaton, Schaumburg, and communities throughout Cook County. Contact us via our online form or call us at 312-462-1700 to set up a free consultation with a child injury attorney.