Daycare Injury and Accident Lawyers in Chicago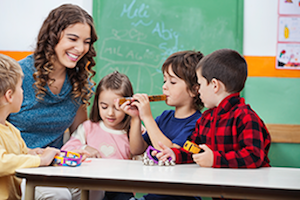 Child Safety Attorneys Assisting Families in the Chicago Area
When parents send their children to daycare, they expect them to be well cared for, and they trust that the staff understands what to do in high-stress or emergency situations. Unfortunately, however, daycare injuries sometimes happen. If your child suffers an accident at a daycare, you should seek medical treatment for his or her harm and assistance from a Chicago daycare injury lawyer as soon as possible. Medical records can be used to document the nature of your child's injuries. As a parent, you will likely need to be appointed guardian ad litem by the court to sue the responsible parties on behalf of your child. If your child is hurt at a daycare, the personal injury lawyers at Moll Law Group are available to represent you in an action to recover compensation. Billions of dollars have been recovered in cases in which we were involved.
Holding a Daycare Liable through a Negligence Claim
Generally, parents seeking damages from a daycare facility will have to bring a lawsuit under the theory of negligence. To prove negligence, you need to establish that the daycare had a duty of care, the daycare breached the duty of care, the breach caused an injury to your child, and actual damages resulted. The duty of reasonable care is usually straightforward in this context. It consists of the precautions that a daycare should reasonably exercise in order to prevent foreseeable harm to children in its care. The standard is usually established by looking at procedures at other similar day care centers.
Courts will likely consider how the injury occurred and whether it was foreseeable. There are some events that happen so quickly that a reasonable daycare employee could not prevent them. Some foreseeable injuries, however, could include a child being harmed by unsanitary conditions, developing a high fever that goes unnoticed and therefore untreated, tripping over an object, falling off playground equipment, or being hurt by a toy that has been recalled or banned. The facts of a particular case need to be evaluated to determine whether a daycare was negligent. A daycare injury lawyer at our Chicago firm can assist you with this process.
If the accident resulted from the carelessness of a particular individual, the daycare facility also may be held vicariously liable for its employees' negligence in the course and scope of their employment. When the question of vicarious liability arises, it is important to look at what kind of background check was conducted with respect to the employee directly at fault for a child's injury, and whether that employee was properly supervised on the job.
A daycare also may be held directly liable for negligent hiring or negligent supervision. For example, if a prospective employee has a history of abusing children or neglecting them, and a daycare failed to conduct a background search, it may be held responsible.
Discuss Your Daycare Injury Case with a Chicago Attorney
If your child was seriously harmed because of the negligent conduct of a daycare, the child safety attorneys at Moll Law Group are available to help you pursue recovery. We also represent injured individuals in Naperville, Schaumburg, Wheaton, and communities across Cook County. Call us at 312-462-1700 or use our online form to set up a free consultation with a daycare injury attorney in Chicago.