Rollover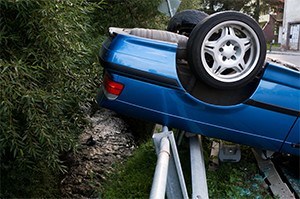 Product Liability Lawyers Representing Victims of Auto Defects
Since they have a high center of gravity and a narrow wheel track, SUVs are more likely to roll over than other cars and trucks, including pickups, which also have a high likelihood of rolling over. Even though they are sold to people who want to use them off-road, many are not designed with adequate safety features to avoid a rollover. A rollover may cause catastrophic injuries and even a tragic death. SUVs may catch fire or explode. If you are injured or a loved one is killed in a rollover accident, the experienced rollover injury lawyers at Moll Law Group are available to help you recover compensation for your injuries. Billions of dollars have been secured in cases in which our auto defect attorneys have been involved.
Seeking Compensation for Injuries Caused by Rollovers
When a rollover happens, there is a strong possibility that the car was not designed to avoid a rollover or that the car was not designed to protect the driver and passengers in case there was a rollover. The first type of defect is considered a stability defect. SUVs often have this type of defect because they have a high center of gravity. The latter type of defect has to do with crashworthiness.
Crashworthiness is the aspect of safety that deals with how well drivers or passengers are protected in case of a collision. Crashworthiness features include air bags, roll bars, crumple zones, and side impact bars. When a car experiences a rollover, it needs to be designed with enough roof strength or other features to protect the people inside. A crushed roof can result in spinal cord injuries or brain trauma. Moreover, a rollover or side curtain air bag can add to the protection of the people inside.
These crashworthiness features sometimes have manufacturing or design defects. For example, when properly designed, roll bars can prevent the roof from collapsing and causing severe head injuries. However, if the roll bar is badly designed, it may not protect a passenger as intended.
When a stability or crashworthiness feature does not function properly to protect the driver and passengers during a crash, the victims may be able to bring a product liability lawsuit with the assistance of a rollover injury lawyer. A manufacturer is not absolved simply because it is not aware of a car's propensity to roll over or that a crashworthiness feature does not work as its supposed to work. Manufacturers are required to keep track of their products and potential dangers even after they are released to the public for purchase.
If you are injured in a rollover accident, it is important for your attorney to retain an experienced expert to determine whether a defect caused the rollover. In many cases, a manufacturer will defend a lawsuit with experts who will claim that your own actions, rather than a defect, caused the rollover. It is important to be able to counter that type of assertion with a credible expert's testimony.
Assert Your Rights by Enlisting a Rollover Injury Attorney
If you are injured due to a rollover, our product liability lawyers are available to help you pursue the full range of compensation for your injuries. At Moll Law Group, we represent victims nationwide, including in states such as Florida, Texas, California, New York, Ohio, Michigan, and Pennsylvania. Call us at 312-462-1700 or use our online form to arrange a free consultation with a rollover injury lawyer.