Crashworthiness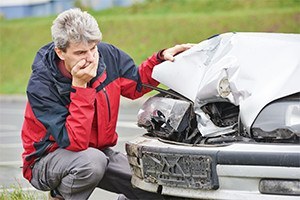 Knowledgeable Auto Defect Lawyers Serving Victims Nationwide
Crashworthiness is the ability of a vehicle's structure to protect people inside it in a collision or crash. When a design is crashworthy, the risk of injury or death is reduced. Generally, a car's crashworthiness is tested before it is sold to consumers. However, crashworthiness can depend on different criteria. If you are injured in a vehicle roll over, or your seatbelt does not work, the car's design may not be crashworthy, and you may have grounds to enlist an auto product liability lawyer to bring a lawsuit to seek compensation for your injuries. At Moll Law Group, our auto defect attorneys are familiar with crashworthiness claims and are available to help you pursue a claim or sue the manufacturer of a defective car or car part. We handle litigation nationwide, and billions of dollars have been recovered in cases in which we have been involved.
Pursuing Compensation for Inadequate Crashworthiness
Some aspects of vehicle design that are often used to determine a car's crashworthiness are the structure itself and the restraints inside, such as the seatbelt and the airbag. When a car has a reasonably good structure, it will have crumple zones, a strong safety cage, a side structure that can to some degree withstand an impact, and a strong roof so that occupants are not crushed by the roof in a rollover.
Manufacturers typically use crash tests before selling a vehicle to determine its crashworthiness. How the car responds to high-speed front and side crash tests, as well as rollovers and rear impacts, will determine the car's crash test rating.
Unfortunately, in spite of crash tests, many car designs (particularly roofs, seatbelts, and airbags) are not crashworthy. In a crashworthiness case, a vehicle manufacturer may be held liable because of a defect that was not the cause of the accident itself but instead exacerbated the severity of the injuries suffered. In a crashworthiness case, an auto product liability lawyer will argue that the manufacturer failed to design the vehicle so that it was safe for a reasonably foreseeable use, including the possibility of being involved in a collision.
In other words, injuries that are the result of a car's crashworthiness can be compensated separately from injuries caused by an accident. Although this distinction can be difficult to establish, it can be accomplished in some cases. During a collision, there is an impact with another vehicle or object, and there is also a collision that arises from an occupant's impact with the inside of the car. When a design is reasonably safe, the forces are distributed over as much time and space as possible. Generally, you will have to show that a design feature that could be avoided or feasibly designed in a safer way caused an injury in an accident or the risk of a particular type of injury.
Pursue a Claim with an Auto Product Liability Attorney
Most car owners assume that their vehicles are crash tested adequately. Unfortunately, there are instances in which manufacturers take shortcuts with design for financial reasons, and the result is a car that is unnecessarily dangerous. If you were injured because of your car's inadequate crashworthiness, the auto defect lawyers at Moll Law Group are available to bring a product liability claim or lawsuit on your behalf. We represent people throughout the U.S., including in states like California, Florida, New York, Texas, Pennsylvania, Ohio, and Michigan. Contact us via our online form or call us at 312-462-1700 to set up a free consultation with an auto product liability attorney.