Door Latches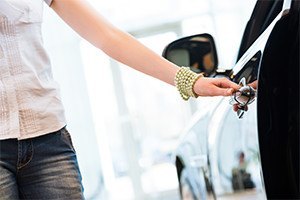 Auto Defect Attorneys Representing Victims Nationwide
Most people may not associate defective door latches with accidents. However, a driver or passenger can be ejected from a car when the latch is defective. The injuries can be serious, and they may include abrasions, neck injuries, fractures, spinal cord injuries like paralysis, and brain trauma. If you or a loved one is ejected from a car due to a defective door latch, the auto defect attorneys at Moll Law Group are available to help you secure damages. Our door latch defect lawyers handle litigation across the country, and billions of dollars have been recovered in cases in which we have been involved.
Establishing Liability for Injuries Caused by Door Latches
In the early 1970s, regulations were established in connection with door latches. A car's door latches are supposed to withstand an inertial load of 30G's, or 30 times the force of gravity, in the event of a collision. Federal Vehicle Safety Standard 206, requiring a crashworthiness test, was implemented. Nonetheless, about 8,000 people are ejected from their vehicles due to broken or defective latches each year, according to the National Highway Traffic Safety Administration.
Door latches can be defective because they do not meet regulations, or because they suffer from a mechanical failure, a flawed design, a manufacturing error, or a failure to warn about safe use. For example, Ford issued a recall related to door latches that get stuck and fail to fully latch, leaving the door unlocked while the car is moving or during an accident.
In many states, a defective door latch can give rise to a strict liability claim. You will have to prove that there was a marketing, manufacturing, or design defect that was unreasonably dangerous and that caused your injuries. However, some states require a plaintiff to prove a manufacturer's negligence. In those states, showing a defect and causation is not enough. Your door latch defect lawyer will also have to show that the manufacturer breached its duty to use reasonable care and that the breach caused your injuries.
Compensatory damages can be both economic and noneconomic. Economic damages typically involve tangible, documented damages like medical expenses, lost income, household services, and property damage. Noneconomic damages are usually more subjective damages, and they depend on a jury's subjective assessment of which losses reasonably flow from a particular injury. In certain states, noneconomic damages are limited or capped. They often include pain and suffering and mental anguish.
If a defendant knew that the door latches were defective and failed to take steps to warn consumers or concealed this fact from consumers, this may be considered the type of egregious misconduct that gives rise to punitive damages. Punitive damages are awarded to punish a defendant and deter future misconduct.
Consult an Experienced Door Latch Defect Attorney
Often, manufacturers have experienced attorneys and insurers working to minimize their liability. When bringing a claim against an automobile manufacturer or parts manufacturer, it is important to have representation from a knowledgeable door latch defect attorney who can look out for your best interests. If you were thrown from a car and believe it was due to a defective door latch, our product liability lawyers are available to represent you in a claim or lawsuit. We assist injured consumers nationwide, including in states such as California, Florida, New York, Texas, Pennsylvania, Ohio, and Michigan. Contact us via our online form or call us at 312-462-1700 to set up a free consultation.